Hong Kong authorities just released their "official" record of the 79-day protest movement that swept the city from August to mid-December. In a report addressed to Beijing, the government said it hoped to "reflect objectively and truthfully" the events as well as the opinions "expressed by different sectors of the community."
The 217-page report (pdf) certainly includes episodes that reflect badly on the authorities, like the police's use of tear gas and the brutal beating of a protester. But it omits key details that show how much support there was in Hong Kong for what became known as the Umbrella Movement—like the size and scope of the protests, which swelled to tens of thousands of people on the evening of Sept. 29 and other nights, and may have involved up to 1.2 million people overall.
Given that the purported goal of the report is to accurately portray how Hong Kongers feel about the issue that set off the protests—Beijing's insistence on choosing candidates for the city's leader instead of allowing open nominations—those omissions seem glaring. There's plenty of use of phrases like "universal suffrage," but little information on how Hong Kongers define the phrase: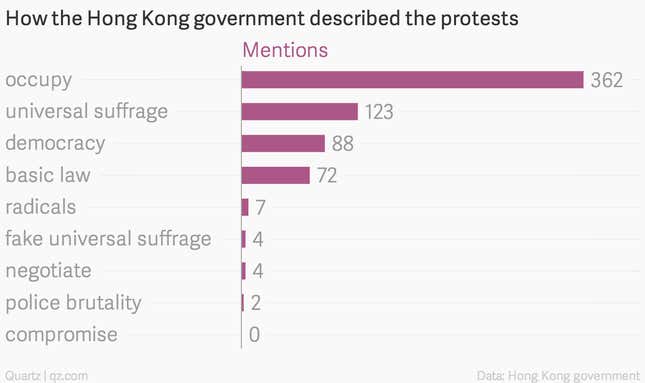 One hopeful sign is a slight change in tone on the government's part. "There are still quite divergent opinions in the society regarding how to implement universal suffrage" (p. 3.), the report notes. That's a contrast to the government's report to Beijing in July (pdf) that said "mainstream opinion" believes the power to nominate candidates is "vested in the [nominating committee] only."
Moreover, the report concludes:
"Hong Kong is a pluralistic society. The HKSAR [Hong Kong Special Administrative Region] Government understands that constitutional development is an extremely controversial issue… The HKSAR Government wishes to discuss with different sectors of the community specific electoral issues in a rational and pragmatic manner, and work out together a fair, just, transparent and competitive proposal for selecting the CE by universal suffrage."
Still, despite that change in tone, more than 30 people involved in organizing the protests—including student leaders, pro-democracy legislators, and media mogul Jimmy Lai Chee-ying—have been instructed to report to police headquarters, where they will be arrested on unlawful assembly charges. And chief executive C.Y. Leung has already warned activists not to reignite protests during the public consultation process.
Another round of public consultation on how the city should implement universal suffrage begins tomorrow, Jan. 7. The office of the chief executive will submit a proposal to Hong Kong's law-making body, the Legislative Council (LegCo). Approval requires a two-thirds majority in the LegCo, which will be hard to come by. Already, 27 of the 70 members have vowed to veto (paywall) the bill.