Until recently, Ukraine was a rising information technology hub. But since the ouster of pro-Russian president Viktor Yanukovych, Russia's annexation of Crimea, and the outbreak of fighting across the country's east, Ukraine's tech sector—like the country in general—has suffered serious setbacks.
Venture capital investments in the industry doubled in both 2012 and 2013, but are estimated to have dropped by half last year, according to AVentures Capital (pdf), a venture firm based in Kyiv: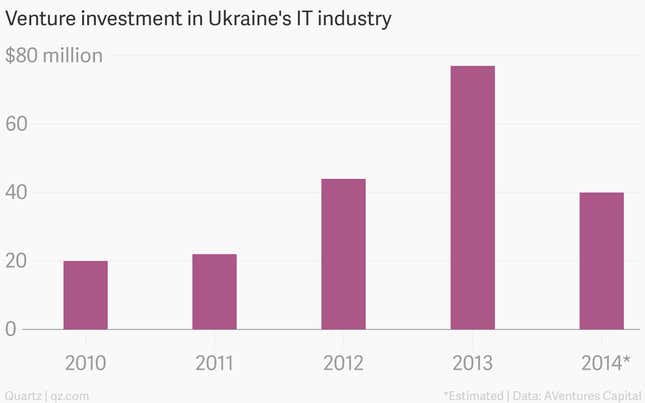 But even amid a collapse in its currency, runaway inflation, and talk of an imminent government default, not all of Ukraine's tech entrepreneurs and investors have lost hope. "When I travel to the United States and put on CNN or the BBC, they report on Afghanistan, Iran, and Ukraine. It doesn't really help," Yevgen Sysoyev, managing partner at AVentures Capital, told Quartz:
When you turn on the TV or read about Ukraine, you see that Ukraine is at war. But it's only a small portion; 95% of the country, of its territory, population and business is doing business in the same way as before. But because of the way Ukraine is being presented, many people believe there is a war in Kyiv, and military action in every city.
Ukraine's economic turmoil and perceived riskiness has indeed chased away foreign capital, a vital ingredient in the country's pre-crisis growth. Outside investors tend to spend more, per deal, than their Ukrainian counterparts. Almost all multi-million dollar investment rounds in 2012 and 2013 were funded by foreign capital.
"A number of deals originated in late 2013 and were supposed to close in the first half of 2014," says Sysoyev. "Initially they were postponed for a couple of months. Then there was Russian aggression." The investors still haven't come back.
The slowdown comes at a particularly bad time. Before the turmoil, Ukraine had been transitioning from an outsourcing center for European multinationals into a thriving tech ecosystem in its own right, with some significant successes. Now both are suffering. The $2 billion market for outsourcing, which employs more than 50,000 engineers, had been growing at a rate of 30% a year. Growth in 2014 halved to 15%.
Still, slower growth is still growth—a rare thing in Ukraine these days. Sysoyev reckons that the IT industry overall will grow again this year, thanks in part to a push from government. Five IT executives are now members of Ukraine's parliament following October elections. "There is a dialog now," says Sysoyev. "The IT sector has got the attention of the politicians."
What's more, the downturn in 2014 might have a silver lining for the future of Ukraine's tech industry. Vasile Tofan of Horizon Capital, another venture capital fund, posits that "when opportunities are scarce, talented young people are doubly encouraged by the prospect of striking out on their own."