Skirmishes between companies and their unionized employees tend to bring out the worst on both sides. The conflict between Netjets, the private jet-sharing firm owned by Warren Buffet's Berkshire Hathaway, and its pilots has brought out the weird, too, if allegations in a December lawsuit are correct.
The Netjets Association of Shared Aircraft Pilots sued the company for tampering with union activities, which would be a violation of US labor rules for pilots. The lawsuit alleges that the company inappropriately accessed a private message board used by the pilots to discuss union issues, and more bizarrely, impersonated pilots on Twitter to provoke union members into labor law violations.
Christine Herbert, a Netjets spokesperson, declined to comment on the allegations in the lawsuit; the company must respond to the court by Jan. 23.
The union's first allegation, that the company seems to have accessed the pilots' message board in violation of its terms of service, was apparently confirmed by the company's general counsel in a letter to the pilots: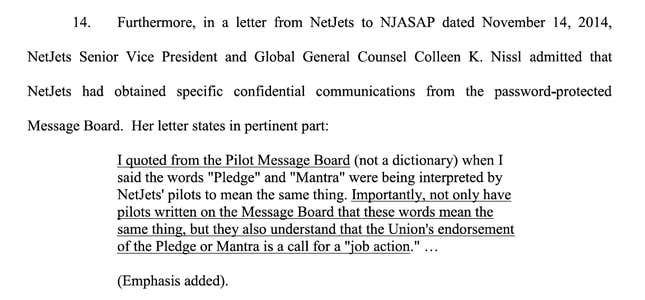 But things get much weirder when the lawsuit discusses what it says are the company's efforts to trick and intimidate union members by impersonating pilots on social media through Twitter accounts like @usedtobeproud (better known as Twinkie the Kid), @captainqsgoose and @qsgoose. Most of the union's narrative concerns @usedtobeproud, which they allege is actually controlled by Netjets VP Steven Todd Weeber.
According to the complaint, the account encouraged pilots to violate labor rules by engaging in "unlawful job action" like work slowdowns, even as Netjets was threatening to fire pilots who participated in such activities.

Many of the tweets are quite opaque, if you're not familiar with airline labor negotiations and inside jokes among pilots, or obviously produced by bots. The complaint does not establish how it came across the information that the accounts are operated by Netjet employees. But this may be the first time Twitter sockpuppetry has taken center stage in a labor battle.

So far, the contract dispute, which the company says centers on its proposal that pilots pay the same share of their health care premiums as other employees, hasn't effected Netjets service. "We would like to resolve it, sooner rather than later," Christine Herbert, a Netjets spokesperson, said.