Europeans may have a reputation for long lunches and indulgent siestas, but those aren't keeping their airlines from being remarkably punctual. European airlines dominated a ranking of on-performance airlines in 2014 published by OAG, an aviation data service that provides flight schedules worldwide. By contrast, only two of America's airlines made it into the top 20.
Of the top 20 airlines ranked, 13 are based in Europe, five in Asia-Pacific and just two, Hawaiian and Alaska Airlines, in the US. (Hawaiian Airlines was also the most punctual in a ranking of US airlines.)
The ranking includes the top 200 operators globally in terms of available seat miles in 2014 (a measure of airline capacity that accounts for distance traveled), and those that operated more than 30,000 scheduled flights in 2014. In addition to these (defined as 'mainline' carriers), the rankings also include low cost carriers and regional carriers globally. OAG defines "on-time" as arrivals that take place within 15 minutes of what is scheduled.
Latvia's airBaltic snagged the top spot, followed by America's Hawaiian Airlines and Austrian Airlines.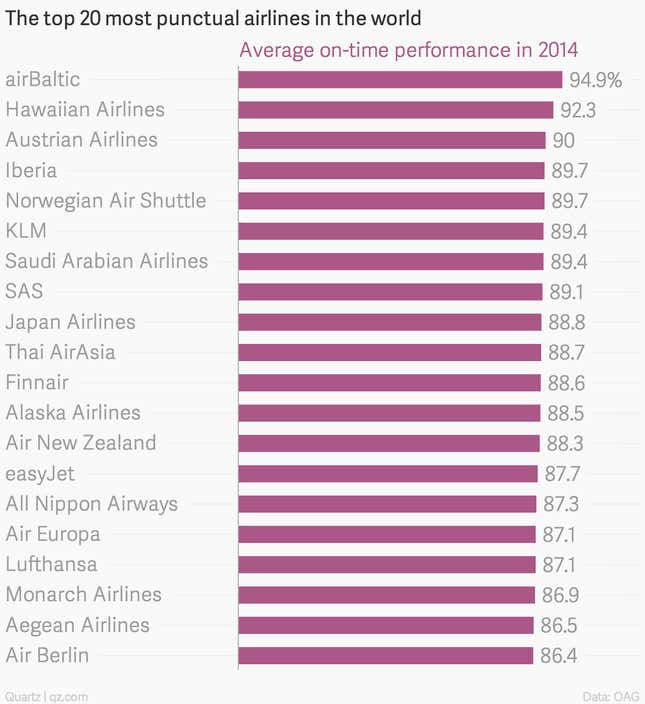 The rankings revealed that low-cost airlines can hold their own in terms of punctuality. AirBaltic, the most punctual airline, Norwegian Air Shuttle, easyJet, and Monarch Airlines are all low-cost airlines that made the cut. The US's best performers (Hawaiian and Alaska) were also smaller, regional carriers. Lufthansa, the largest airline in 2014 as measured by the number of flights operated, was one of a few legacy carriers to make the top 20.