The day after the murderous attack on Charlie Hebdo journalists in Paris, the French are searching for answers.
Many, like National Front leader Marine Le Pen, decry the influence of "radical Islam" on the country. The tragedy also plays into the broader anti-immigration platform of right-wing parties like Le Pen's. Today, she pointedly suggested that France should reintroduce the death penalty, playing up her hardline bona fides.
Le Pen has led recent polls for France's next presidential election, and some believe that the Charlie Hebdo shootings will strengthen her position. But if making loose insinuations between Islam, immigrants, and crime is her formula, it may not work. A survey by Pew Research earlier this year found that the French hold some of the most favorable views in Europe towards Muslims in their country: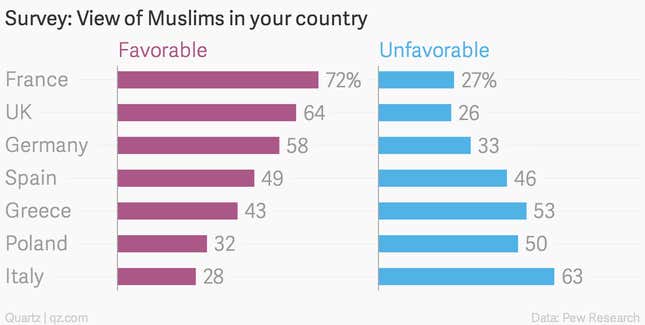 In all of the countries Pew surveyed, people who identify with the political right wing held more unfavorable views of Muslims. But even here, tellingly, only a minority of French on the ideological right said they had an unfavorable view of Muslims, lower than many other European countries: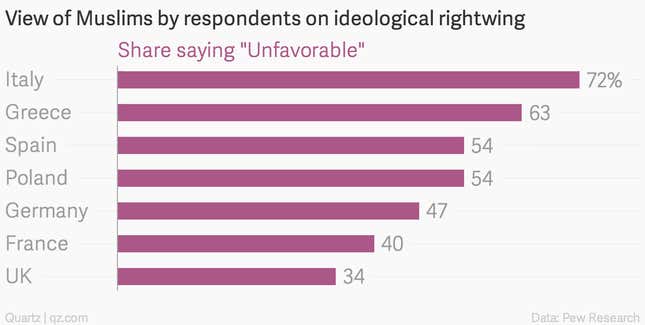 France has Europe's largest Muslim population, and one of its fastest-growing. The Muslim community's integration with the country's non-Muslim majority is fraught, to be sure. And France is no stranger to religious extremism and terror attacks, many of them with purportedly Islamist motives. France routinely arrests the most suspects for religiously inspired terrorist offenses in Europe, according to Europol: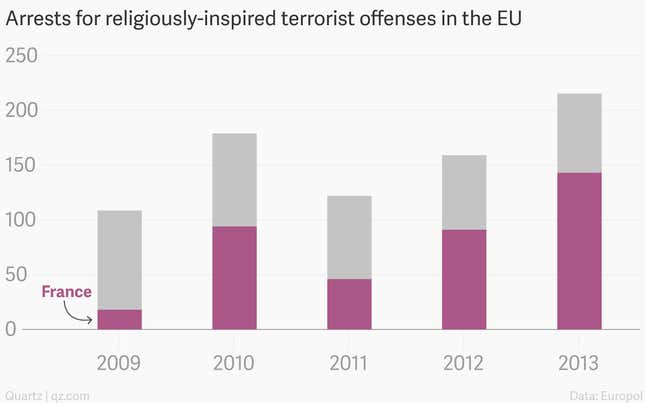 Even so, the surveys suggest that public sentiment in France has not turned against the local Muslim community in large numbers. Will the tragedy in Paris change things?
Quartz's full coverage of the attack in Paris can be found here.