Li Ning, the Chinese sportswear brand whose meteoric rise once epitomized China's own economic ascent, said today it expects a net net loss of up to 820 million yuan ($13.19 million) for 2014. That marks the company's third consecutive year of red ink and signals just how far Li Ning has to go as it attempts a turnaround.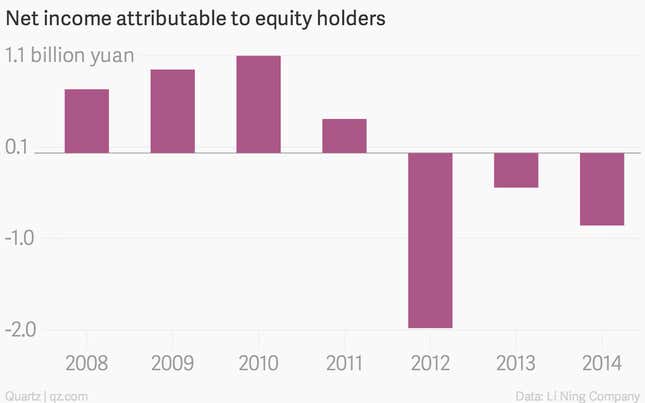 Li Ning, founded by the Olympic gold medal gymnast of the same name, was China's first homegrown sports brand that stood a chance competing internationally. During the 2008 Beijing Olympics, Li Ning stole the show from Adidas and went on to compete with Nike and other western sportswear makers on their home turfs. It was also the first Chinese sportswear brand to list in Hong Kong.
But over-expansion and a re-branding that raised shoe and apparel prices—while also replacing Li Ning's original slogan, "Anything is possible" with the less hopeful "Make the change"—hurt the company's revenues, which began to fall in 2011. Nike has long since displaced Li Ning as China's top sports brand.
Today, the company is saddled with high levels of debts and is facing intense competition from Adidas and Nike, as well as up-and-coming domestic upstarts like ANTA Sports Products. The company's turnaround plan has it refocusing on the Chinese market and on basketball. Yet industry watchers say the company's strategy may still be straying too far from what originally worked. Loud colorful shoes, meant to target young shoppers, have replaced the classic red and white Li Ning sneaker that its loyal customer base favored.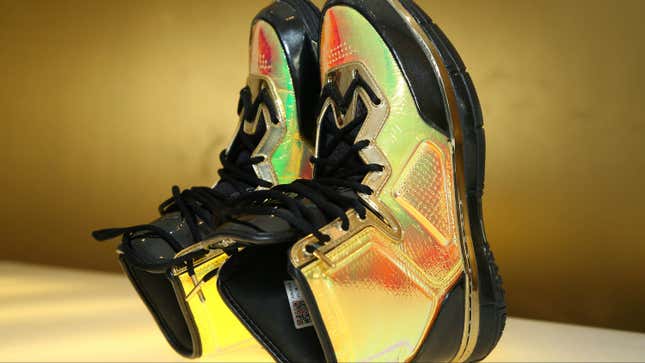 One bright spot for Li Ning has been its sponsorship deal with NBA star Dwyane Wade, a shooting guard for the Miami Heat who is wildly popular in China and has a signature line of shoes made by the company. Siobhan Zheng, a spokesperson for Li Ning, said last year "We chose Wade not because he is the tallest and strongest, but he's gotten to where he is today through sheer hard work. That is a story which resonates with Chinese consumers [who] appreciate a strong work ethic."
Despite Wade's popularity in China, he is playing in his 12th season, and has been hampered by injuries in recent years. Wade's name in Mandarin is 德怀恩韦德 (Dehuai-en Weide), which is a combination of the characters meaning morality, heart, and grace. For Li Ning to make it back to the top, it will need an abundance of all three—plus perhaps a few more healthy years from its superstar.