Hong Kong's health ministry is cracking down on the formula industry's claims that their products make babies and toddlers healthier, stronger, and smarter, making it the latest authority to challenge the fast-growing business. Hong Kong plans to regulate all of these products marketed to children up the age of three, the government indicated last week, and is asking for public input.
Enriched with additives like DHA (a fat that occurs naturally in breast milk) and company creations like Intelli-Pro™, these powdered milk-based products pitched at children from birth to primary school age don't come under guidelines for food regulations in Hong Kong, but they also aren't regulated like drugs or vitamins. The latest Hong Kong government proposal (pdf) would forbid formula makers from making any nutritional claims whatsoever for products for babies under six months, and severely restrict claims on other products.
As Quartz wrote earlier, while campaigns by the World Health Organization and other breast-feeding advocates have dampened sales of formula to infants, the "toddler milk" industry is booming in Asia, and especially China and Hong Kong, thanks in part to over-the-top advertising campaigns that claim the products will do everything from give kids a competitive edge in school to make them musical prodigies. Products designed for kids in pre-school and beyond are sometimes dubbed "growing-up milks." From almost nothing five years ago, the toddler and growing-up milk industry now accounts for about one-third of the infant and baby food market's $50 billion in annual sales, experts told Quartz last year.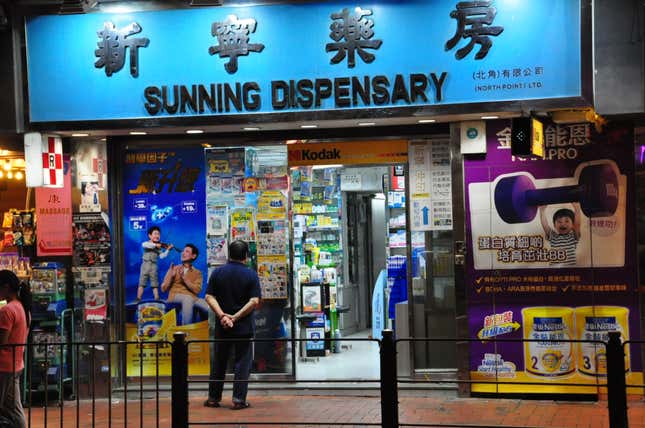 Healthcare experts say the benefits of many additives in the formulated drinks are untested, and that children full on the the sugary, high-protein drinks don't eat enough regular food to give them the nutrition they need. The European Union's food safety agency said in late 2013 that these products add "no additional value to a balanced diet."
Formula companies argue that they're supplying supplemental nutritional, especially for picky eaters who may not get enough from the food they eat.
Hong Kong's health ministry has been debating oversight of these products for years, while formula companies have been lobbying against the idea. The latest proposal shows that there "definitely will be some regulation," Marie Tarrant, an associate professor with the University of Hong Kong and an infant feeding expert. But "it could be quite toothless," she warned, depending on the outcome of the current discussions. "If they allow the formula companies any leeway in making health and nutrition claims, they will find a way to continue the deceptive advertising practices."
The Hong Kong government does "not want parents and caregivers to choose these food products for their children based on dubious nutrition or health claims, which may in turn adversely affect the health of infants and young children," said Hong Kong's undersecretary for food and health, Sophia Chan, at a press conference earlier this week.
The government is asking for any nutrition and health claims to be "scientifically substantiated," and have "undergone a credible evaluation process." It is also inviting public comments on the advertising and labeling of these products, and plans to issue final guidelines on the claims companies can make in Hong Kong.