This year's Consumer Electronics Show in Las Vegas was a feast for the senses: More than 170,000 people from all over the world, wandering endless aisles of giant TVs, wearable gadgets, and everything that goes inside them.
But the most interesting thing we saw was housed in a temporary building in a parking lot outside one of the main convention halls: A new "smart headlights" concept from BMW, demonstrated in a tiny theater.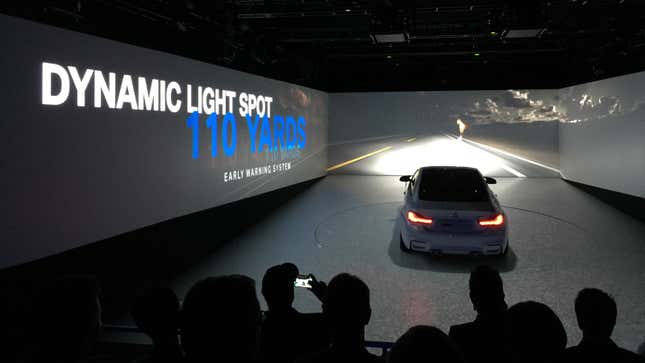 Imagine:
Headlights that dynamically change direction based on the curvature of the road—fed by GPS data.
Super-bright laser high beams that sense when cars are coming in the opposite lane and selectively mask themselves, so as not to blind oncoming drivers.
Infrared sensors that can see large animals and people getting too close to the road and shine a spotlight on them.
A laser projection of your vehicle's exact width to navigate narrow passages.
To be sure, this is just a concept design—not nearly a shipping product—and the demo video is high on drama. But it seems exactly like the sort of futuristic feature that all of today's big trends—smart cars, sensors everywhere, pervasive mobile broadband—should make possible, and almost obvious in hindsight.
Thanks to New York startup guy Matt Lehrer, who called it the "biggest leap from current tech at CES," for the tip.