This post has been corrected
Last year, Uber raised two rounds of funding, each exceeding a billion dollars. During that time, Airbnb convinced investors to pony up $475 million for its hotel alternative, and Lyft closed a $250 million round to take on the aforementioned on-demand car service.
For late-stage startups, 2014 was a very good year for raising money. According to research firm Pitchbook, the median round for series D or later was $29 million, an 80% spike from $16.1 million in 2013. Earlier fundraising rounds—seed, series A, series B, and series C—saw gains as well.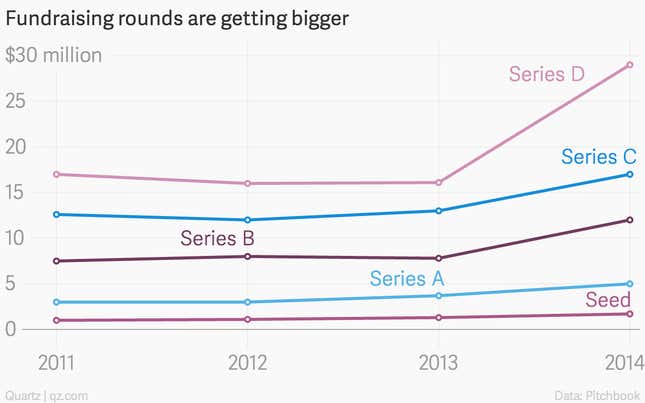 Cumulatively, startups raised $87.74 billion globally last year, about $30 billion more than 2013, but there were also fewer deals overall. In 2014, Pitchbook recorded about 7,700 fundraising deals, about 1,700 fewer than the year prior.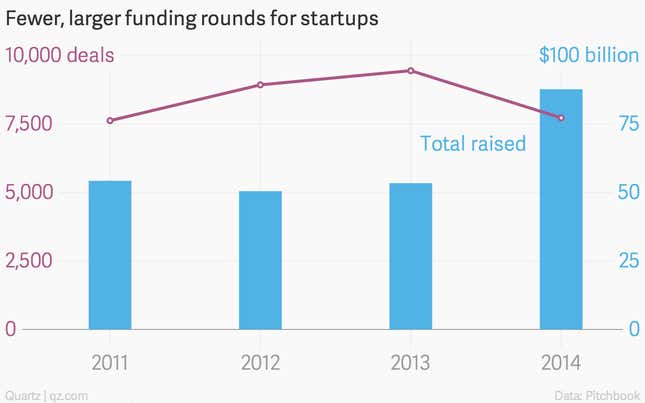 Senior analyst Andy White says this shift can be partially attributed to non-traditional players betting on startups. "Big asset managers are participating in huge rounds, typically pre-IPO in order to get their foot in the door before the company goes public," he tells Quartz, noting this is a relatively new trend. Fidelity, for example, led Uber's $1.2 billion series D round in June.
Biotech and pharmaceuticals companies are further pushing the trend toward larger late-stage rounds. Developing drugs "is extremely expensive, so they need a ton of capital up front," he says. "For the most part, no one's ever heard of these companies unless you work in the space."
While they pale in name recognition to Pinterest ($200 million raised last year) or Instacart ($210 million), their numbers are similarly impressive. The bigger biotech deals of 2014 include Pathway Genomics ($500 million), Moderna Therapeutics ($450 million), and Intarcia Therapeutics ($200 million).
Correction: The scale on the second chart in an earlier version of this post was erroneously labeled "million" instead of "billion."