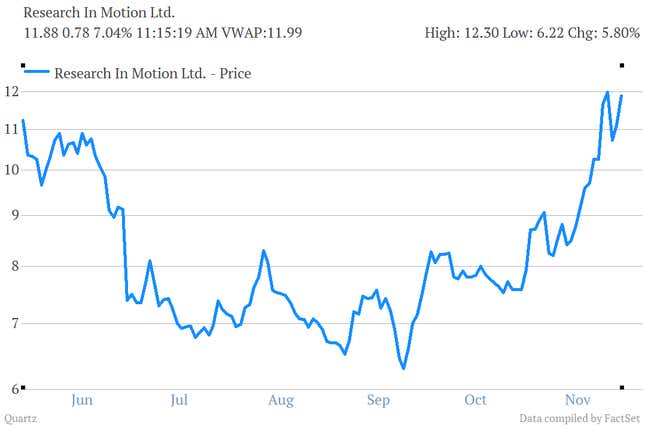 A report by Goldman Sachs just upgraded RIM to a "buy" rating. On its face, at least through the first quarter of next year, this is not an unreasonable recommendation. Before this surge, RIM had been trading at or below the total value of its assets since June. In January, the company will release the BlackBerry 10, which will almost certainly boost the company's revenue as die-hard fans of Blackberrys scoop it up, reversing, at least temporarily, the ongoing contraction in the growth of shipments of BlackBerrys. It could even, as Goldman predicts, return the company to profitability, at least for that quarter.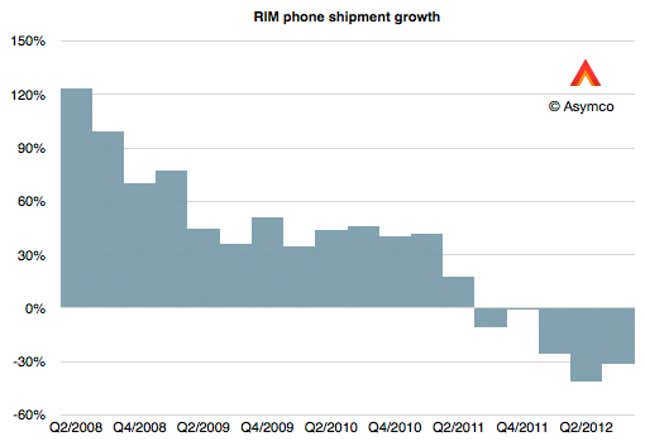 But is this the start of a rally for the beleaguered company, or a last stand? Even Goldman isn't sure, noting that "The primary risk is lack of follow-through demand post the BB10 launch." If I'd written the report, I would have said something like "buy RIM now, ahead of the sales bump that will come from the BlackBerry 10 launch, but for heaven's sake, don't hold it for long after." Here's why.
1. A mysterious phone of unknown quality
So far, reviewers have only seen prototype versions of the BlackBerry 10, so we can't say how good it is. We know there's going to be a version with a keyboard like every previous BlackBerry, but there will also be a touchscreen-only model like other smartphones. RIM has been scrambling to get developers to create apps for both devices, so it's likely that it will have the same problem as Windows phones, such as the new Nokia Lumia 920: a paucity of apps, compared with the vast selection already available on the iPhone and various Android handsets. (Almost all of Blackberry's lost market share has come at the hands of Android.)
2. A focus on a market that doesn't exist
RIM CEO Thorsten Heins said in March that the company is now focusing on the "enterprise" market because "BlackBerry cannot succeed if we tried to be everybody's darling and all things to all people."
But as industry analyst Horace Dediu has pointed out:
The idea of focus has huge benefits. Focus and the art of saying no are keys to greatness. However, you only succeed if you focus on the right thing. "Enterprise" is not the right thing. It's not a valid target. Enterprise support is a feature, not a product. I don't mean that as opinion, but as a point of fact. Focus on a set of customers whose only characteristic is a job description is missing the whole point of focus.
Businesses of every size are abandoning their policies of handing out phones, favoring instead a "bring your own device" policy, and making their email systems work with any smartphones. Industry analysis firm Gartner calls this the "most radical shift in enterprise client computing since the introduction of the PC," and even the security-obsessed US Federal government has rolled out guidelines for agencies to let employees bring their own devices.
This means that it's not chief technical officers any more, but employees—which means consumers—who now dictate which smartphones are used at companies large and small. And all evidence suggests that consumers are leaving BlackBerry in droves, even as RIM explicitly turns away from consumers. About the only place RIM's sales are growing are in its cheaper models, mainly in the developing world but also in cost-conscious Germany. Goldman predicts that RIMs high-margin devices will lift the company's revenue in the first quarter of next year, which, given the BlackBerry 10's launch, is no doubt true; but for the company to continue to rally, it's going to need to expand in that high-end market, and so far there's little evidence it will.
3. Patent woes
RIM is being sued by Nokia. The suit appears to be an attempt by the Finnish company to get higher licensing fees for patents it owns (on technologies such as wifi) that all mobile devices depend on. The outcome, whether imposed by the courts or negotiated outside them, will drain RIM's coffers precisely when the company needs that cash for marketing to consumers and convincing developers to create apps for the BlackBerry 10.
4. RIM will bounce, but the overall trend in market share is awful
RIM has posted losses for the last three quarters in a row. In the latest quarter it beat analysts' expectations. However, Dediu again:
…as far as I've been able to observe, any company in the mobile phone market that ended up losing money has never recovered its standing in terms of share or profit.
He goes on to list 13 companies, from Motorola (spun off as Motorola Mobility) to Alcatel that had a negative quarter and then never recovered, and later either got out of the handset market or were absorbed by a larger firm.
In the past 24 months, Blackberry ownership has dropped by 12 million units. The company now has a 1.6% market share in the US. If keyboards were a sufficient differentiator, why would RIM hedge by offering a me-too touchscreen device? (And there are plenty of Android handsets that have keyboards.) If "enterprise" means much in the mobile market, both Apple and Google will happily make it possible for enterprises to integrate iPhones and Android phones with their systems. There is nothing obviously unique left in RIM's arsenal. After the bounce from BlackBerry 10 sales, we can expect the downward trend in its market share to continue.
Here's the bottom line: Human behavior changes more slowly than technology advances. AOL, for instance, still makes about a third of its revenue (pdf) from people who aren't aware that free email services exist. RIM, likewise, is going to hang on to a committed fan base. But minor fluctuations in the purchasing habits of those fans cannot be mistaken for anything like a comeback on the part of RIM.