This post has been corrected.
For the first time, more people immigrated to Israel from France than from any other country. Last year, some 7,000 people arrived from France, roughly double the previous year's level, according to the Jewish Agency for Israel.
Some will blame the exodus on the rising tensions among Jews living in France (paywall). The figures, published in late December, take on new significance after last week's attack on a kosher supermarket in Paris left four dead. That, along with the earlier killings of police officers and Charlie Hebdo journalists by al-Qaeda and Islamic State-inspired terrorists, has put the French authorities on high alert, including protecting Jewish schools.
Jews make up less than 1% of France's population, yet suffer almost half of the recorded acts of racist violence in the country. The head of the Jewish Agency for Israel agency said yesterday in Paris that 20,000 immigrants from France may come to Israel this year, double the forecast before the shootings. He was accompanying Israeli prime minister Benjamin Netanyahu, who told an audience at the Grand Synagogue in Paris that they can "join their brothers and sisters in the historic homeland of Israel."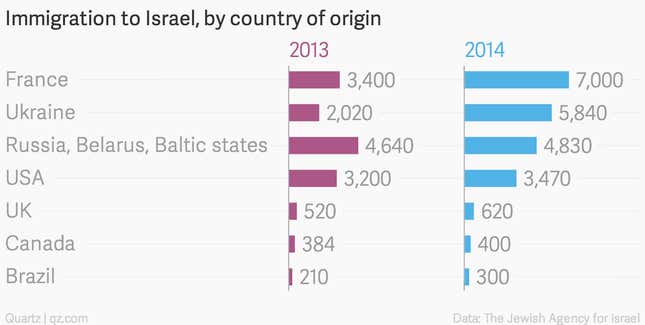 There have been other reasons for the French to depart for Israel beyond the recent rise in tensions, however. France's economy is struggling, with the ranks of the unemployed recently hitting a record high. Israel also has an impressive system for attracting immigrants, including free "Israel experience programs" designed to give young people with Jewish ancestry a taste of life in the country.
Last year also saw a 10-year high in the number of people exercising the "right to return," a rule enshrined in Israeli law that grants citizenship and offers other assistance to immigrants—it's open to Jewish people and their non-Jewish children and grandchildren, from anywhere in the world. The Hebrew term for this is Aliyah, meaning ascent.
Thanks in part to the jump in French arrivals, immigration to Israel was up by more than 30% last year. The Jewish Agency for Israel also noted a "historic shift" in these numbers. For the first time in Israel's modern history, the number of immigrants from the "free world," like France, was greater than those "fleeing countries in distress," like war-torn Ukraine, it said. Given recent events, some might say that the differences between the two aren't as clear as they used to be.
Correction (Jan. 13): An earlier version of this article incorrectly defined the term Aliyah as meaning "return."