China's approach to water scarcity—shipping water vast distances via massive water transfer systems, or exporting "virtual water" by shifting water-intensive products like coal or livestock—isn't working. According to a new study by a consortium of British, Chinese, and American universities, China's policies are exacerbating and spreading water stress across the country, especially to poorer provinces.
"China's current transfer program is pouring good water after bad: the problems of water-stressed regions aren't being alleviated and the provinces sharing their water are suffering greatly," Dabo Guan, a professor in climate change economics at the University of East Anglia and co-author of the study, said in a statement. The report notes that "affluent net virtual water-importing eastern provinces ameliorate their water stress by externalizing water stress to other regions."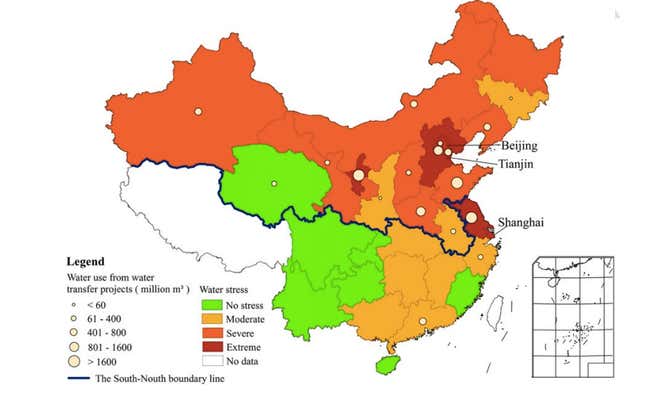 Provinces that export "virtual water" products—mostly to wealthy places like Shanghai, Tianjin, and the provinces of Zhejiang and Guangdong—are using up much of their own water to do so. Xinjiang, Heilongjiang, and Inner Mongolia have seen their water stress thresholds grow to severe from moderate, while Guangxi, Hunan, and Jiangxi provinces have gone from no stress to moderate stress.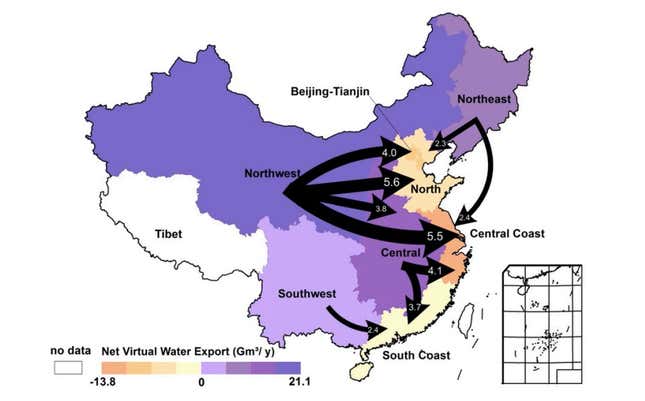 Meanwhile, exporting physical water from China's water-rich regions risks causing long-term harm, as Quartz has reported—China is currently developing more than 20 large-scale water transfer projects. Initiatives like the South North Water Transfer project to divert 44.8 billion cubic meters of water across the country each year, will almost double the water stress index in Hubei province, which is pumping its water to Beijing. (Not to mention the hundreds of thousands of people who have been forcibly relocated for the project.)
The real kicker is that even the regions receiving all the physical and virtual water imports are not seeing their water stress levels improve. The 12 provinces that imported the most water remained in the same category of water stress, according to researchers.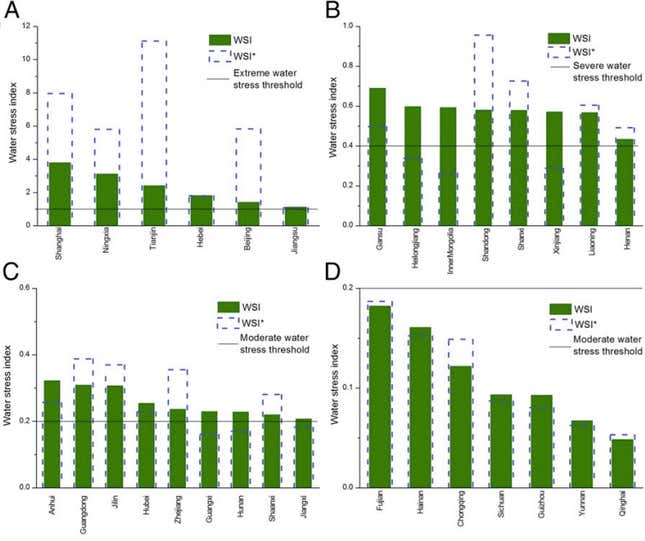 The researchers concluded, "Our analysis shows that both physical and virtual water flows do not play a major role in mitigating water stress in the water-receiving regions but exacerbate water stress for the water-exporting regions of China."