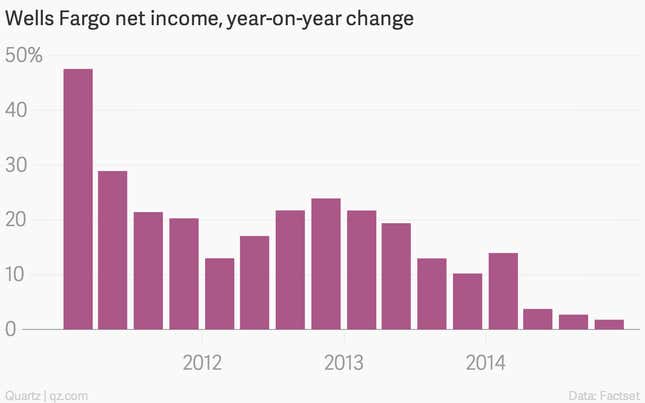 The numbers: Steady. Wells Fargo notched a profit of $5.7 billion in the fourth quarter, up 2% from $5.6 billion the prior year. Revenues rose 4% to $21.4 billion.
The takeaway: Profit growth has slowed in recent years, amid a slowdown in mortgage making and refinancing. But Wells has been reporting higher deposits, loan growth and investment banking revenue. Still, expenses are growing, rising nearly 5% from the year before due to higher costs related to compensation, cyber security, and risk mitigation.
What's interesting: The nation's biggest home lender said the uncertainty around mortgage rates continues to be a drag on its business.  Mortgage originations fell by 12% to $44 billion from the year before, as overall loans (which include credit cards and autos) rose by 4% to $849.4 billion. But there are some rays of hope, as the latest lending data out today showed weekly mortgage applications surging.