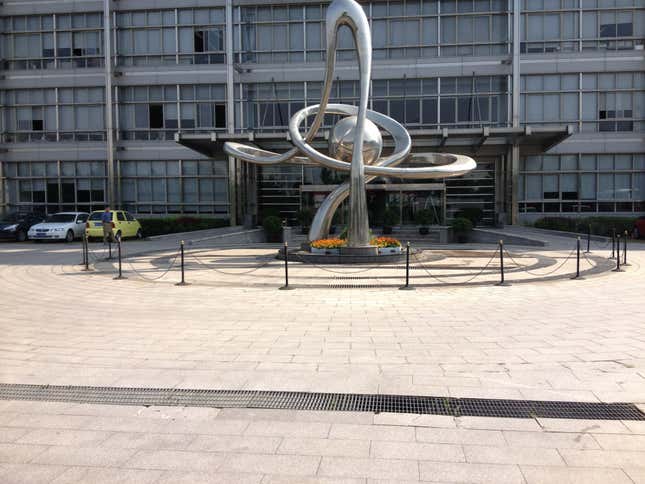 Liquidators of China Medical Technologies, a maker of medical testing equipment that was once listed on Nasdaq and is now bankrupt, are alleging that around $400 million in cash the firm raised in stock and bond sales has gone missing. The allegations are in a complaint that the liquidators filed late last month to the Hong Kong police and the FBI.
In the complaint, which has been reviewed by Quartz, the liquidators say that the CEO's wife gambled substantial sums at the Wynn and Bellagio casinos in Las Vegas. They are also looking into some properties in Hong Kong registered to the wife of the firm's former finance director. And they add that both the CEO, Wu Xiaodong, and the ex finance director, Sam Takyung Tsang, have evaded the liquidators' attempts to contact them.
The complaint adds yet more fuel to a long-running controversy over Chinese companies listed in the US. Only today, America's Securities and Exchange Commission (SEC) brought charges against the Chinese affiliates of the big four accounting firms over their audits of such companies.
All the right seals of approval
China Medical was a large and well-regarded public company, with top-tier investors and advisors. Its 2005 Nasdaq listing was handled by global investment bank UBS and white-shoe law firms Shearman & Sterling and Latham & Watkins. General Electric was one of its early stage investors. All this can be seen in the company's listing prospectus (cover page and p. 88). Credit Suisse and Morgan Stanley underwrote a share offering for China Medical in 2008.
The Chinese company's most recent bond issue was in late 2010. Merrill Lynch bought the bonds, before distributing them to clients. Shearman advised the investment bank on that deal too. China Medical was covered by analysts at Morgan Stanley and Deutsche Bank. In the 12 months before its deregistration from Nasdaq last February, the company was either rated a "buy" or a "hold" by analysts covering it, according to Factset data. Its management appeared regularly at investment conferences, including high-profile events organised by investment banks JP Morgan, Credit Suisse, Deutsche Bank and Citi, whose delegates would have included managers from the world's biggest hedge funds, mutual funds and sovereign wealth funds.
The missing millions
The liquidators of China Medical, Cayman-Islands-based Krys & Associates and Hong Kong's Borrelli Walsh, represent bondholders who are chasing the company for $397 million. Original buyers of the bonds included hedge funds GLG Partners, a London-based fund managing $26.4 billion of assets, which is also suing Wu Xiaodong in a civil case in California alleging he stripped assets from China Medical. Their investigations indicate the bondholders are "the victims of a substantial international fraud," they said in the complaint, dated November 26. Quartz was unable to reach Wu or Tsang, and Wu's wife declined to comment.
China Medical raised a lot of money from investors before filing for bankruptcy.It brought in $677 million in stock and bond sales between August 2005 and December 2010. It was wound down in July after creditors petitioned for it to go into liquidation because it missed interest payments. Just beforehand, the SEC had raised questions over its financial statements.
The liquidators do not yet know much about what happened. They have spotted that funds from China Medical's bond sales allegedly went into a Hong Kong bank, and back out again. In a separate report to China Medical's creditors dated Nov. 27 and also reviewed by Quartz, Borrelli Walsh and Krys & Associates say that $402 million of the $576 million the company raised from bondholders between 2006 and 2010 was paid into its accounts with Bank of China Hong Kong, according to records they say they got from the bank. They add: "A total of approximately $400 million was paid out between January 2007 and July 2012. The liquidators cannot identify the payees of these transactions from the bank statements. Further requests for the supporting documentation will be made (in stages) to BOCHK."
But these funds were allegedly not invested in the company. In bond sale announcements in 2008 (prospectus p. S-49), and 2007 (prospectus p. 32) China Medical said the money would be used for "general corporate proceeds" and acquisitions. But the liquidators say that "most of the fund raising proceeds do not appear to have been invested in the PRC [People's Republic of China] subsidiaries." Citing Chinese government records, they report that China Medical's subsidiaries in mainland China only ever reported around $60 million of registered capital.
In their complaint, the liquidators add that they visited China Medical's Chinese offices. "The liquidators' observations of the premises of the PRC subsidiaries during their site visits indicate that these premises are not the result of an investment nearing $400 million." The photo above is of one of China Medical's Beijing sites, taken in August by the liquidators, which does suggest it was a real business with real assets, even if not $400 million worth of them.
Could some of the money be in Las Vegas? Without saying where they got the information from, the liquidators allege that Bi Xiaoqiong, the wife of China Medical CEO Wu Xiaodong, "has maintained accounts with at least two casinos in Las Vegas (Bellagio and Wynn) and has undertaken gambling activities which involved substantial amounts in these two casinos as late as July 2012." When Quartz called her to ask about China Medical's bankruptcy, Ms. Bi said repeatedly: "I cannot help you. I am not involved with this matter," and declined to talk further. She did not answer a subsequent email asking about the alleged casino accounts. The liquidators plan to issue subpoenas against Wynn and Bellagio, they said in the separate report to China Medical's creditors dated November 27.
But the liquidators say they cannot find much out, because they cannot track down China Medical's top executives. The former finance director, Sam Takyuan Tsang, appears to have gone into hiding, according to the liquidators. In the complaint to police, they say their staff visited the Hong Kong apartment they believe he lives in. They say that the first time the security guards let them leave a note in the mailbox, but on their second visit they were not allowed to enter the building or leave a letter. "It appears that someone has instructed the security guards in this regard," the report says. They add elsewhere in the complaint that Wu, the CEO, is "evading" them and has not responded to their efforts to make contact.
The former finance director has allegedly been rearranging his own finances too. The police complaint says Tsang's wife owns almost $7 million of Hong Kong properties. Citing public records, the liquidators say Tsang transferred ownership of three apartments to his wife's name in the months leading up to his resignation from China Medical in December last year. They say that Tsang owned three Hong Kong companies, but dissolved one and applied to deregister the other two in August 2012, just after China Medical was wound up. Tsang's alleged reorganization of his financial affairs around the time of his resignation and China Medical's bankruptcy are "causes for serious concern," the complaint says.
Here is an advertisement the accounting firms placed in a Hong Kong newspaper earlier this month seeking information on Tsang: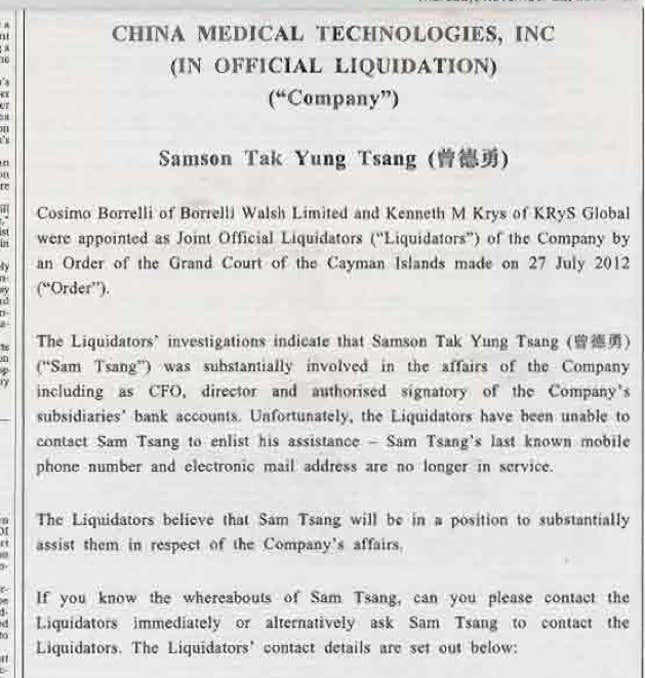 Should Chinese firms be listed?
The SEC has long been investigating a group of US-listed Chinese companies for suspected accounting fraud, and widened the net today with its charges against the accounting firms, which it accuses of violating securities law by not providing audit data for nine Chinese companies. Hedge fund short-sellers have also accused overseas-listed Chinese companies of cooking their books, most famously last June, when short seller Muddy Waters alleged that Sino-Forest, a Chinese timber company whose shares traded in Toronto, was a "fraud." Sino-Forest then filed for bankruptcy protection.
The US exchanges have already seen mass de-listings of Chinese companies, with American investors losing billions of dollars. Lewis H. Ferguson, a board member of America's Public Company Accounting Oversight Board (PCAOB), said in June (the most recent information available) that 126 Chinese companies had "either been delisted from US securities exchanges or 'gone dark,' meaning that they are no longer filing current reports with our SEC."
There is another debate over whether mainland Chinese companies are suitable for overseas retail investors. This has nothing to do with individual companies, but an ongoing conflict between Chinese and American regulators. Right now, the PCAOB cannot inspect Chinese companies' books and records because the Beijing government says they are a "state secret." Quartz has argued before that if the US regulators whose job is protecting investors from fraud cannot inspect or investigate businesses from a country, that country's companies should be considered too risky for American investors to buy into.
A Borrelli Walsh spokesperson declined to comment. A Krys & Associates spokesman could not be reached by press time. Wu Xiaodong could not be contacted, as an email sent to his corporate address bounced back. A office number listed for Tsang in Hong Kong had been disconnected. Spokespeople for the Hong Kong police and the FBI declined to comment. Daniel Rozansky, lawyer for GLG, did not return a call seeking comment by press time.