The Harvard name goes a long way for students who earn the privilege of calling it their alma mater. It's no wonder, then, that the school attracts a healthy alumni following.
Harvard's alumni Twitter account has more than three times the followers of any other Ivy League's, according to an analysis from Keith Hannon, Cornell University's associate director for social media strategy.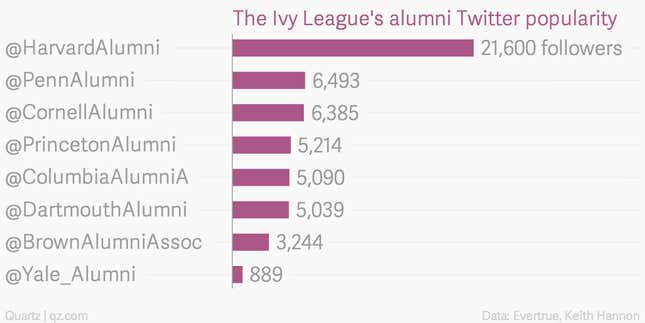 As a commenter points out, not all of these are official alumni association pages, and so are likely to vary in their followings and volume of content. Harvard's Twitter alumni account is prolific, with 12.2 tweets per day, compared to the lower averages of 2.5-5.2 tweets for the other schools. Hannon explains the importance of examining one's social media presence in his blog post for donor research and consulting company EverTrue.
It's not so much how many people are following you but are the RIGHT people following you. I don't mean Rush Limbaugh and Sean Hannity. I mean are you engaging alumni and are those alumni important to engagement and/or fundraising efforts?
The Ivies may have the prestige and the high price tags to prove it, but some of the Big 10 public universities have even Harvard beat when it comes to alumni pride on Twitter. This is understandable given how much larger their student bodies tend to be. To put the Ivies in context, the Ohio State alumni page has upwards of 23,000 followers, and Michigan has almost 61,000.