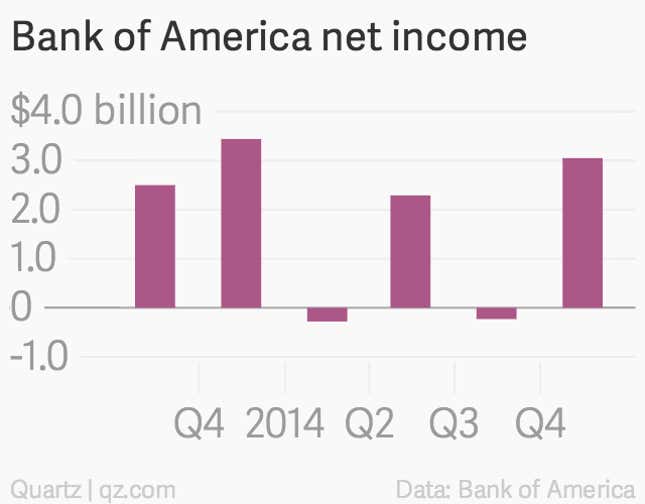 Bank of America posted fourth-quarter results today.
The numbers: Not stellar. Bank of America's profit dropped 11% to $3.1 billion in the fourth quarter from $3.4 billion in the prior year. Revenue also fell 12% to $19 billion.
The takeaway:  The second largest US bank joins the parade of big lenders to post poor results as it contends with continued legal costs, low interest rates and declines in trading revenue. Fixed income, currencies, and commodities trading was one of the worst-performing areas of the bank as market volatility contributed to a 21% drop in revenue from the year before. (JPMorgan Chase told a similar story in its earnings results posted yesterday.)
What's interesting: Bank of America has shed 43,500 employees and shuttered more than 600 branches, or about 11% of its banking centers over the past two years. Meanwhile, mobile banking accounts have risen by 37.5% over the same time period. Now, 12% of all deposits at Bank of America are made through mobile devices, up from 4% just two years ago.