Tokelau is a tiny archipelago in the South Pacific, about 2,500 miles from Australia. It has 120 computers, a population of about 1,300, and a GDP of just $1.5 million—the lowest in the world. But it has more websites registered with its top-level domain than Germany, the UK, or China, according to Verisign. As of 2014, there were more than 25 million domains registered to the island nation (signified with a .tk), more than any other domain name apart from .com.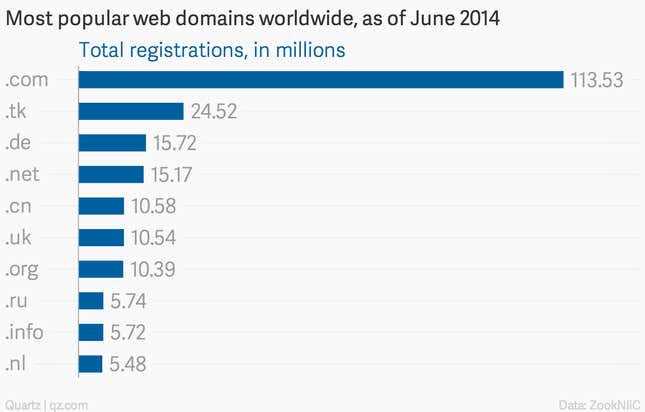 Here's how it happened: In 2000, Joost Zuurbier, the CEO of Freenom, a domain registration firm based in Amsterdam, saw an opportunity. He observed the success that Hotmail was having providing a free email service, and thought the same could be done for web addresses. He soon found that Tokelau had its own top-level domain, but wasn't doing anything with it, so he traveled to the islands to convince leaders to let him make use of it. "We had to explain to them what they had and what the internet was in order to get things going," Zuurbier told CNN in 2012.
Zuurbier tells Quartz that .tk's initial popularity came from students in western Europe looking for a place to host websites on the cheap—anyone could register a .tk website for free. Growth tapered off when Freenom tried to generate revenue by introducing advertising onto the free websites it hosted. After Freenom reversed course in 2009 and removed the advertising, registrations from around the world exploded, especially from China, Brazil, and Turkey. (Turkey's own top-level domain is ".tr" but it doesn't provide free domain names, and only local registrants can apply for domains, so it's easy to see .tk's appeal to the Turkish.)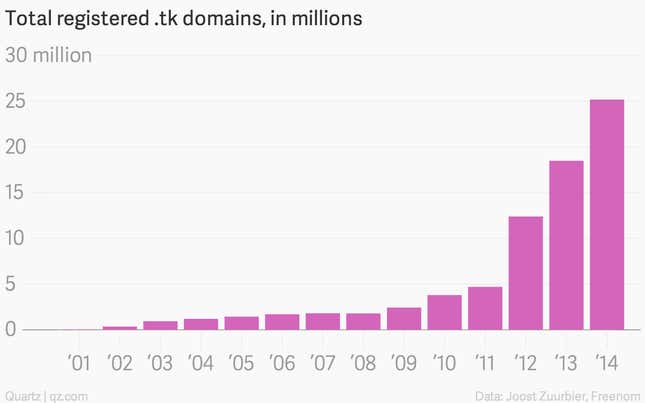 Zuurbier said much of .tk's growth earlier this decade was due to misuse—spam, phishing, and domain squatting—with as much as 3.5% of all .tk sites being phishing sites. Freenom is now working to change .tk's reputation: Zuurbier says the company is working with Facebook, Twitter, and groups like the Anti-Phishing Alliance of China to make .tk a spam-free domain.
Tokelau's domain registration business now accounts for roughly one-sixth of the islands' GDP. (While it's still free to register most domain names, Freenom charges for certain addresses, such as brand names and URLs with less than four characters.) High-speed internet only came to Tokelau in 2004; the servers that run the .tk service are based around the world.
"We are a strange company in the old-fashioned domain world," Zuurbier says. "We give something away for free. Competitors don't like this."
But apparently registrants do. Zuurbier tells Quartz that there have been another 3.8 million registrations for .tk domain names since Jan. 1.