Reports of the death of Massive Open Online Courses (MOOCs) may have been greatly exaggerated, but predictions of a pivot toward MOOCs that are more vocational in nature (as opposed to a pathway to a liberal arts degree) appear to have been right on target.
Investors are flocking to websites targeting people who want to expand their work skills—they already have jobs, and thus the money to shell out for a monthly subscription fee. The education technology sector's two largest funding rounds in the last year have gone to lynda.com and Pluralsight, two online tutorial companies aimed at professionals.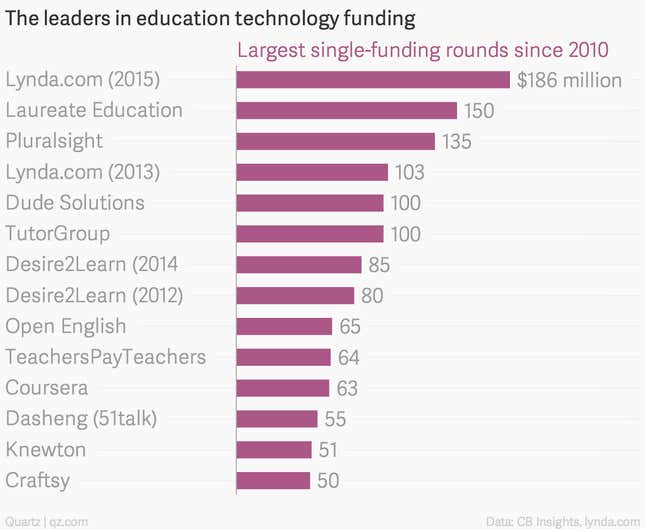 Lynda.com says it raised $186 million this year in a single round of fundraising. According to CB Insights, that's more than any other education technology company has raised in any round since at least 2009, when the business analytics firm began keeping track of the sector. Pluralsight raised $135 million last year. (CB Insights put Laureate, a network of campuses, on the list above, but the company does not consider itself an education technology concern. And of course more traditional MOOC models, like Coursera's—the firm was founded by two Stanford professors in 2011 and works with highly ranked schools to provide access to classes—continue to attract funds; Coursera raised $63 million toward the end of 2013.)
A lot of the money invested in education technology lately has come in smaller amounts, financing startups that have yet to establish viable business models, CB Insights researcher Matt Wong says. But Lynda.com and Pluralsight both have been around for a while—20 years and 10 years, respectively—and more importantly, both say they've been profitable since 2008. Last year, revenue topped $150 million for Lynda.com, and approached the $100 million mark at Pluralsight, the companies tell Quartz.
Both Lynda.com and Pluralsight run on subscription-based models. It costs $25 a month on Lynda.com to access thousands of pre-recorded courses and video tutorials on subjects ranging from 3D animation to data analytics to marketing. Pluralsight is similar but more narrow in focus; $29 a month allows tech professionals and software engineers to keep up to date with the latest required skill set or programming language. Businesses use both services for training employees as well.
The companies don't want to replace colleges; they work with them, positioning their services as being supplements to, not substitutes for, a university education.
University professors usually are "really focused on conceptual frameworks, they're focused on theory rather than technical skills," Pluralsight CEO Aaron Skonnard tells Quartz. "If you use something like Pluralsight to fill in that gap … it actually solves that problem."