Fans of the Seattle Seahawks are most enthusiastic about their team's chances of reaching the Super Bowl of the National Football League this year.
Flight search data suggest that Seahawks fans are making travel plans to Phoenix, Arizona, host of this year's championship game, more than fans of the three other remaining playoff teams. Hopper, the firm that provided data, thinks they mean Seattle will face the New England Patriots in the Super Bowl, with the Seahawks prevailing.

The data presented in this analysis comes from Hopper's combined feed of global distribution service data, which includes about 10 million queries and 1 billion trips per day. Demand is represented as the number of search queries, and not actual ticket purchases.
Relative demand for airfare to Phoenix correctly predicted the results of all four divisional games.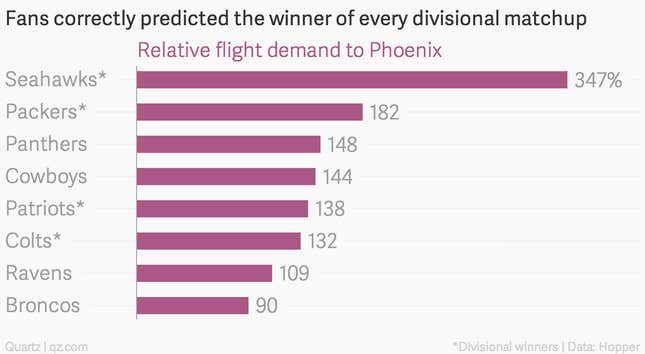 The starred teams are each divisions' winners. The top four teams are part of the NFC, while the four bottom teams are part of the AFC.
Before last year's Super Bowl, Hopper found that fans from Seattle and Denver were most eager to fly for their teams. Those cities ultimately met in the championship game. Seattle, the winner, had a slight edge over Denver in terms of searches for flights from the city to the location of the game.