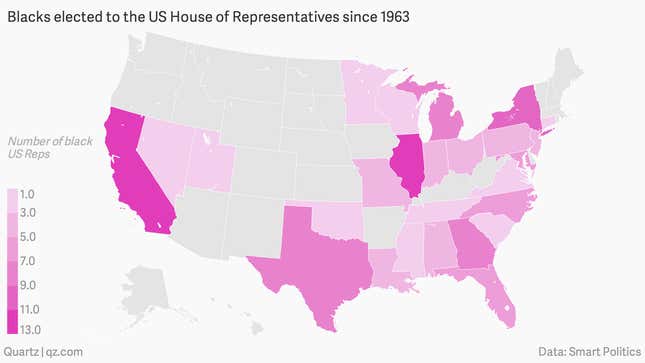 More than half a century after Martin Luther King Jr. penned his famous "Letter from Birmingham jail," racial inequality persists across America.
And the racial divide is perhaps most stark in the upper echelons of government, where minorities are vastly underrepresented and politics is still dominated by older white men.
Nearly half of US states have yet to elect a black woman or man to the US House of Representatives, according to an analysis by Dr. Eric Ostermeier, a researcher at the Center for the Study of Politics and Governance at the University of Minnesota.
This may be the most diverse Congress ever, alongside the nation's first black president, but in a country where 13.2% of adults are black, there are currently no black governors, only two black senators, and just 44 black US reps (about 10% of the House).
States that have yet to elect a black to the US House of Representatives include Massachusetts and Delaware, where 8.1% and 22% of adults, respectively, are African-American. The highest number of blacks elected to Congress have come from California, Illinois and New York.