Here is some sobering news for anyone in the journalism industry: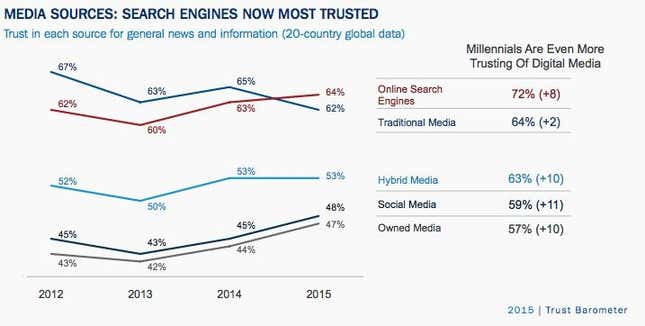 Online search engines have overtaken traditional media as the most trusted source for general news and information, according to a global survey of 27,000 people by Edelman, a public relations firm. The data will be presented to delegates at the World Economic Forum in Davos this week.
The trust gap between traditional media and search engines is even more pronounced among millennials.
The biggest search engine is, of course, Google. And the striking thing is that Google does not actually report on anything, but instead serves up links to stories on a mix of other sites that users, apparently, trust less than the aggregator itself. The search engine also serves, for better or worse, as the simplest and quickest way to find most things online, including news. (Yahoo, its smaller rival, has been getting into direct content creation, including news.)
Getting an at-a-glance look at a wide range of stories deemed relevant by a search-engine algorithm—be they from traditional news outlets, blogs, advertisements, and much else besides—is more comforting to the curious reader, it seems, than simply pulling up a single news outlet's site (or indeed picking up a newspaper or turning on the TV).
Perhaps more reassuring, from the journalist's perspective, is that traditional media are still more trusted than the flotsam and jetsam on social media, according to the study, although faith in the latter is rising quickly. At the same time, big social media sites like Facebook are becoming increasingly important sources of referral traffic for traditional media sites. So the lines are increasingly blurry there as well.