Guar, a gummy legume extract whose value is inextricably tied to shale drilling, has returned to its humble roots. From a peak of $11,135 a metric ton in 2012, the price of guar gum keeps plunging. It's now down to $186, one-sixth the price in its El Dorado days, and back near pre-boom levels.
In the dust are a Texas legume company, a hedge fund that backed it, hundreds of ordinary Texan fortune hunters lured in by promises of riches, in addition to thousands of Indian farmers who produce 80% of the world's guar.
The guar debacle is in part a product of the 60% drop in shale oil prices since last June. But guar's giddy days have been numbered for more than a year, ever since the boom produced a surplus—as happens to commodities—which then led to the start of its price plunge.
So what is guar? Resembling something of a green pea, it is in fact a bean. To extract the important components, you shuck the husk and harvest the seed inside, which contains the gum that inspired strong demand. Guar thickens the fluid that frackers inject into wells at high pressure—otherwise known as hydraulic fracturing–thus making it easier to line the resulting cracks in the shale and hold them open so that oil and gas can be pumped out.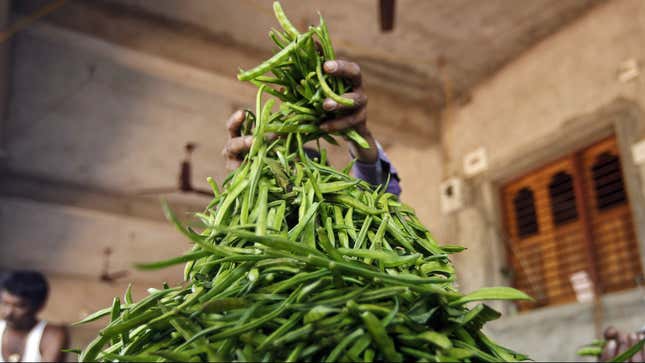 Guar gum isn't only used by frackers. It's also sold to paper-, textile- and gun-makers. But frackers made it famous.
In India, the guar boom was giving thousands of poor farmers a far better income. From mid-2010 until mid-2012, the price spiked as US shale drillers grabbed any supply they could. But then supply went up as India and West Texas Guar, a US manufacturer, ramped up production. West Texas Guar convinced Scopia Capital Management, a Wall Street hedge fund, to pay $4 million for a 45% stake in the company, which bumped up supply even more.
By the end of 2012, however, the price was already sinking. Recent low oil prices have exacerbated the problem (paywall). West Texas Guar is in bankruptcy; Scopia is trying to figure out how to recoup its investment; Texas farmers are still owed money promised to them; and Indian farmers are back to pre-boom prices.
And guar is back to being a humble legume.