Global warming, with its slow pace of destruction, arcane scientific explanations, and complex policymaking, isn't the sexiest subject for pop culture to take on. Pharrell Williams, who brought us the catchiest, and possibly most overplayed song of this generation—Happy—wants to change that.
Speaking from the World Economic Forum in Davos, Williams, along with former vice-president-turned-environmental-activist Al Gore, unveiled plans to stage Live Earth, a huge, global event to raise awareness about the devastating effects of climate change. The concert, which the duo hope will be the biggest of its kind in history, will be held on six continents on June 18 and feature 100 artists. They say it will reach an audience of 2 billion via 193 broadcasters.
"Instead of just having people perform, we literally are going to have humanity harmonize all at once," said Williams.
The European stage will be set up in Paris, in the run-up to the highly anticipated UN climate change conference scheduled in the city for December.
The first Live Earth event organized by Gore and producer Kevin Wall took place in 2007, and was also big, if underwhelming in terms of results.
Back then, climate change was a hot topic. Gore, basking in the success of his climate change blockbuster documentary, "An Inconvenient Truth," won a Nobel peace prize for his activism. His movie and the companion spoken word album even won two of  popular culture's highest distinctions: an Oscar and a Grammy.
But everything seemed to go downhill from there. Ben Schmidt, an assistant professor of history at Northeastern University, charted how mentions of global warming and climate change in movies and TV shows spiked not long after the Gore documentary, and went down sharply after that. He did this using a tool he created that analyzes the content of subtitles and closed captions.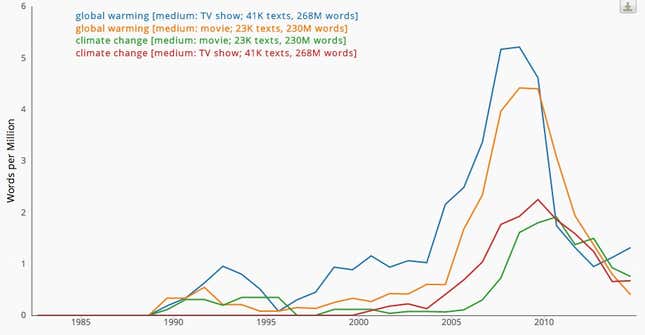 It's anyone's guess why. One theory points at the dying hype around "An Inconvenient Truth." It might also be due to the effects of the 2008 economic recession that occupied everyone's attention for years.
Brian Merchant, a writer at Vice's Motherboard blog laments that in our "disaster hungry" pop culture there are very few artifacts devoted to climate change, and once they are produced, they have very little to do with plausible global warming scenarios. That was the case with the disaster flick The Day After Tomorrow (produced in 2004, notice the spike in the graph). "The lack of cultural support for the climate is further evidence that the public simply hasn't adequately absorbed the climate crisis yet: We're not afraid," he writes.
Let's see what a little Pharrell magic can bring.