Scads of the world's most powerful people are now gathered in two small mountain towns: Park City, Utah and Davos, Switzerland. Through Feb.1, Park City hosts the Sundance Film Festival, where hopeful directors, glamorous actors, and powerful producers will attend movies, speaker panels, and parties. They'll make deals, network with industry cohorts, and maybe even ski. At the World Economic Forum annual meeting in Davos, world leaders and business titans are doing much of the same—minus the movies.
So why must they wear suits in a ski resort in the Swiss Alps? Don't get me wrong; a well-fitting suit in the right setting has impact. But nothing eviscerates one quite so efficiently as Davos' chosen accessory: bulky, blank-faced, trouser-crumpling snow boots. It's a look that says: I'm formal, but I'm practical too; I play by the rules, but I won't risk my neck on the ice. Also, I can't see my own feet.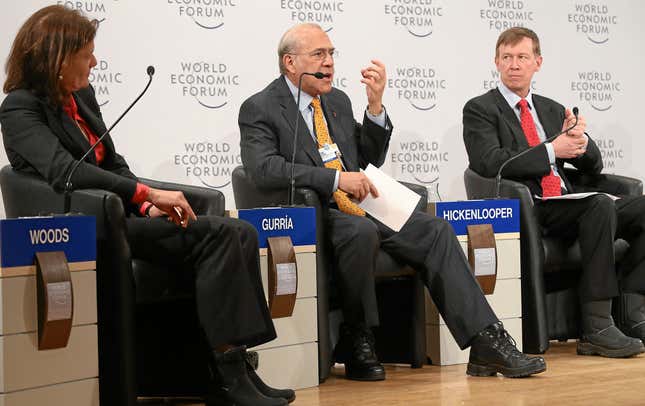 I understand what they're dealing with—if everyone else is wearing their schlubby suits with Gore-Tex or Moon boots, do you really want to be the guy in a half-zip sweater, cashmere sport coat, fine-wale corduroys, and Merrell-ish mountain shoes? Wait. Yes!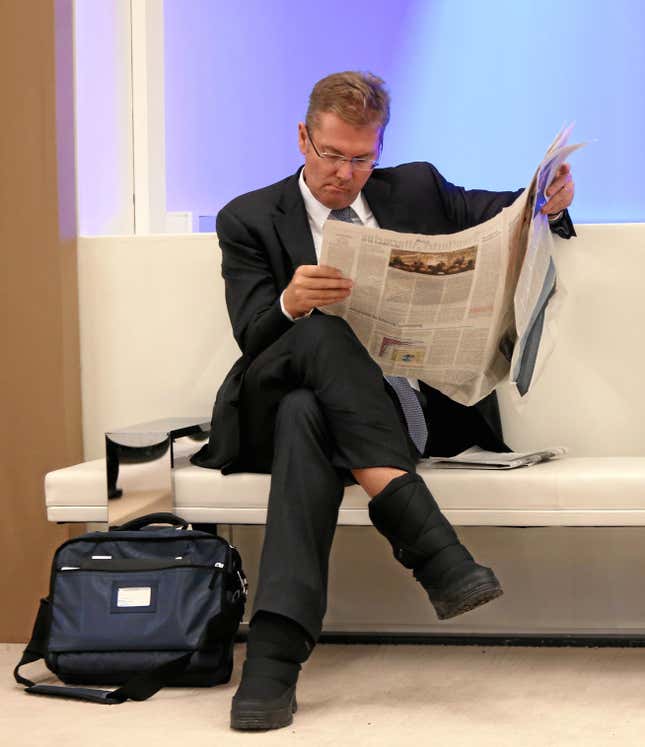 It may be a stretch, but the delegates at Davos should look west to their counterparts at Sundance. There, players know how to pose in the mountains. It's true that actor and director Robert Redford basically owns the place, so he has that advantage (on top of just being Robert Redford.) But his look—blue jeans and a classy black sweater on the festival's opening day in 2014, pictured at top—is not unattainable.
It basically says: I'm Robert Redford. Welcome to my own ski town. I'm so powerful I don't have to prove it with formal or hideous clothes. Let's just get comfortable and get down to business (casually).
Willem Dafoe and Robert De Niro—both of the older white male demographic so strongly represented at Davos—are also good examples of Sundance style that would easily translate to the WEF meeting.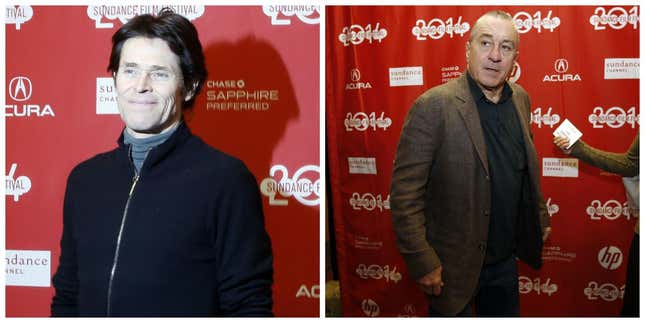 Where the power brokers of Davos have gone wrong is in surrendering to the logistics of the place—but not completely. Icy sidewalks between venues and coat check lines mean it's easier to just to keep one's boots on, rather than changing into shoes. But they still hold onto the suits. It's time to fully let go and embrace the place.
Delegates of Davos, find a Swiss ski shop (or go online to Gorsuch) with some jaunty alpine sweaters, Brunello Cucinelli jackets, and rubber-soled shoes on end-of-season sale, and spend some Swiss Francs already.
We look forward to seeing you in 2016.