Uber launched in Denmark on Nov. 19 last year. That same day, the Danish Transit Authority filed a police complaint against the American taxi-app firm. "In regards to the ride-sharing programme, we consider it on par with a taxi service. So if the vehicles don't have a taxi licence, it is illegal," a spokesperson told Børsen, a business daily, according to a piece in The Local DK at the time.
This week, Denmark's minister of transport waded into the debate. "If it undermines regular pay and working conditions, and if [they] in reality are just taxis without consumer protection, we would have to conclude that this [operates] outside [the scope of] Danish law," he told TV2, a state broadcaster, reports Politiken (link in Danish).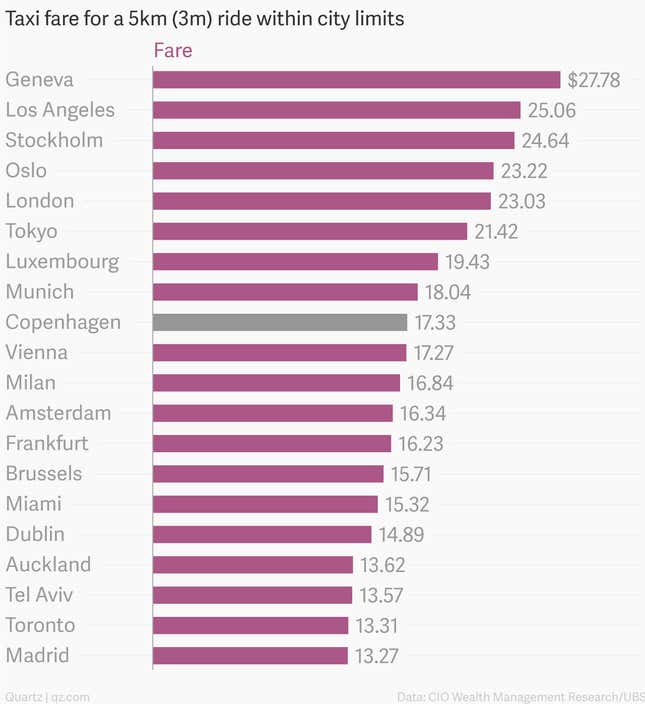 Denmark, along with its neighbors in the Nordic region, has some of the strongest labor and consumer protection laws in the world. Uber, on the other hand, operates with few full-time employees. Its drivers are independent agents and even many of its staff at headquarters are hired on a contractual basis.
But Uber may find allies in the very consumers the Danish state wants to protect. Many Danes see taxi drivers and their unions as barriers to change and competition, and argue that the industry is over-protected. Taxi fares in Copenhagen are some of the highest in the world (pdf, p.20).
The critical issue is whether Uber is a taxi service. If it is, it will have to adhere to existing laws, as the company has been forced to do in Delhi after an Uber driver was alleged to have raped a passenger. If it is not, it will be deemed an illegal service. Another recent case suggests what the answer might be. In August last year, taxi drivers for two app-based cab services were forced out of Aarhus, Denmark's second-largest city, also known as "the city of smiles."