Hong Kong's Hutchison Whampoa confirmed today that it will buy o2, the British mobile network operated by Spain's Telefonica, for £10.25 billion ($15.38 billion), most of it in cash. Hutchinson will combine o2 with its own network, Three, to create Britain's largest operator by market share. And last month, the British telecommunications company BT bought the mobile and internet service provider EE for £12.5 billion.
It feels like the UK telecom market has turned upside-down almost overnight. What messages are to be found in this strange alphanumeric soup?
The British deals are neither unexpected nor occurring in isolation. Across Europe, mobile operators are snapping each other up. In the past year alone, Telefonica closed a deal to buy yourfone in Germany; Orange bid to buy Jazztel in Spain (pending regulator approval); Orange also tried (and failed) to buy Bouygues Telecom in France; and in what should have been a good predictor of today's news, Three bought o2 in Ireland.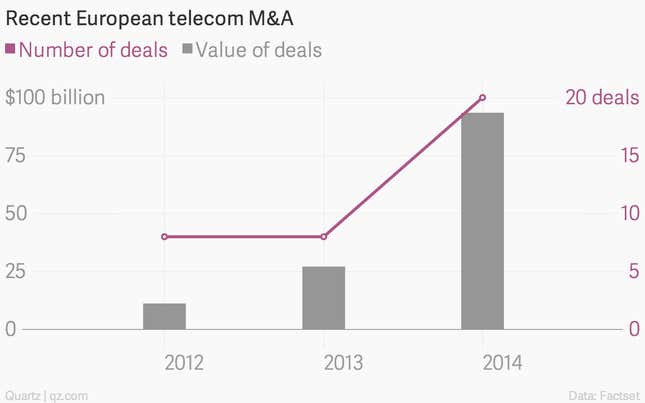 In most of these cases, the deals reduced the number of operators in the market from four to three. In a press meeting in Paris last summer, Orange's then CFO Gervais Pellissier told journalists that such consolidation is essential for European telcos. And Europe's competition authorities seem fine with it. Even Angela Merkel, the German chancellor, supports consolidation (paywall).
Squeezed by EU-mandated caps on roaming fees and battered by competition in relatively small markets, European operators have long argued that consolidation is good business and good for consumers. For German, Austrian, and Irish subscribers, this may come as something of a surprise. Prices have uniformly risen as the number of players has declined.
But European operators' revenues have been declining (paywall) over the past few years too, even as the need to provide better and faster data connections—Europe lags far behind the US on 4G mobile broadband, for instance—means that capital expenditure is rising.
The financial performance of European telcos over the past decade has been negative, says Guy Peddy, an analyst with Macquarie, an investment bank. In 2013 alone, revenues dipped 7% across the market, compared with 3% in the US.
Peddy sees the latest deal as an example of "constructive consolidation" based on "so we can get to a sustainable investment and growth environment."
In other words, British—and European—mobile subscribers may see prices rise in the coming year. But if they want their services to continue improving, they should be willing to fork out for it.