This item has been updated.
There's a great rumor going around: "1,700 private planes went to Davos."
https://twitter.com/flightradar24/status/557563754557480960
Wouldn't that be rich, given the prominence of climate change on the agenda for the power brokers there this week!?
Too bad it isn't true, and there's data to prove it.
The figure comes from this CNN story which cited jet tracking firm WINGX Advance as indicating that 1,700 aircraft movements were expected in the area around the time of the World Economic Forum meeting this week in Davos, Switzerland. The normal level of movements was said to be half that, according to WINGX. So WINGX is saying there are 850 extra movements. If you want to know how an aircraft movement differs from a flight, and a plane, Felix Salmon has a great explanation. In short, a flight has two movements, so that 850 figure is possibly just 425 flights (Salmon explains why it's probably even less.)
So how many private flights were actually for Davos? It's hard to say, but here's a chart showing total daily flight arrivals into Zurich, the primary airport for WEF attendees, for the last few weeks through Jan. 22.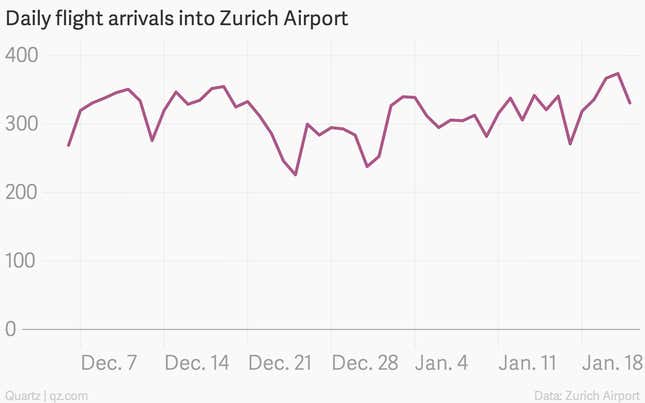 This includes commercial scheduled flights, charters, private, as well as cargo. That little bump on the right? That's Davos.
The peak travel day was Wednesday Jan. 21, with 374 arrivals into Zurich. On a typical January 2015 Wednesday, Zurich airport is expected to have about 280 commercial airline flights, according to schedule data compiled by PlaneStats.com
Here's a chart just showing all arrivals on recent Wednesdays to remove the weekly noise.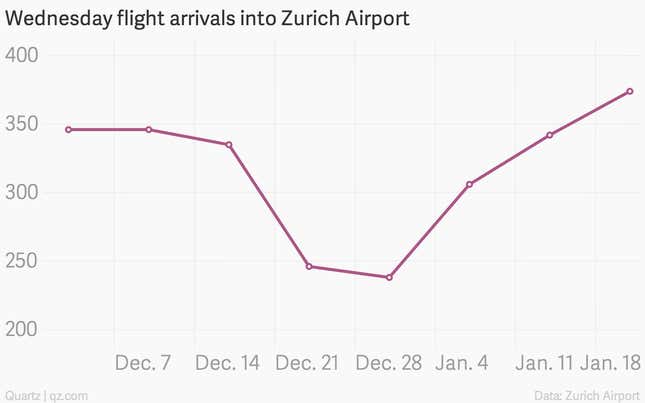 There is clearly an increase for Davos, the far right data point on the chart. But as you can see, on the peak day there were only about 25 extra flights on top of a more typical 350 arrivals of previous weeks. (The dip is Christmas Eve and New Year's Eve.) In fact, Zurich airport told CNN it was only expecting a 10% increase in typical traffic—which is corroborated by this data—and means there was nowhere near 1,700 private planes taken to Davos.
Update (Jan. 26): The peak day for arrivals into Zurich airport was the Friday after Davos, Jan 23. On that day there were 413 arrivals. Over the previous eight Fridays an average of 333 flights landed at the airport, giving the Friday following the conference an extra 80 landings.