There are many ways to brew instant coffee, but this is one of the most creative. Origami is Starbucks Japan's take on the single-use pourover filter, a product that coffee brands have long sold at Japan's ubiquitous convenience stores.
Starbucks calls it "personal drip," and offers it in three roasts. We picked up this Christmas Blend kit (link in Japanese) while meeting with Starbucks in Tokyo late last year.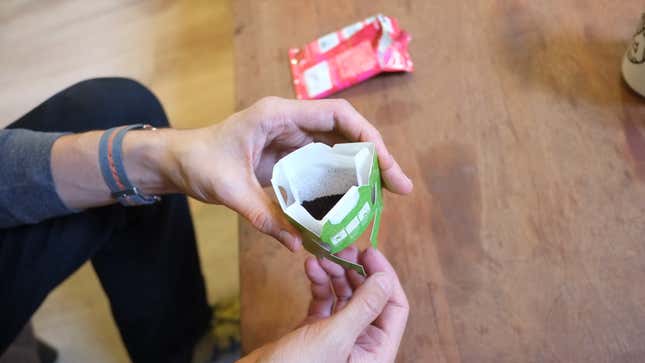 Origami is simple—and, dare we say, fun—to use: Open a sealed bag, one per serving. Unfold the "origami" filter that's pre-filled with ground coffee. Place it on a mug. Slowly pour hot water over the grounds. Enjoy your coffee! And then toss the whole contraption in the trash—grounds, filter, and stand.
The coffee tastes about as you'd expect—pre-ground Starbucks beans, with a pleasantly smoky aroma. But it's at least a more interesting technique than, say, dumping instant coffee into a mug of hot water.
"Invoking the artistry and hand-crafted nature of Japan's ancient art of origami, this innovative product allows customers to brew a single cup of Starbucks coffee at home that does not require any special equipment," Starbucks said when it launched the product in 2010 in partnership with Ajinomoto General Foods, a Tokyo-based instant coffee manufacturer.
Instant and ready-to-drink coffee products, by the way, have long been eyed as potential growth drivers for Starbucks, which still generates most of its sales from its stores. In the US, Starbucks sells three types: its own VIA packets and Verismo pods—and, more recently, K-Cups for Keurig machines. On Starbucks's earnings call this week, the company announced that 100 million Starbucks K-Cups were shipped last December, up 20% from the prior year.