The star-studded line-up reads like a Top Chef casting call: Tom Colicchio, Mario Batali, David Chang, Jacques Pépin, José Andrés, Rick Bayless, and Lidia Bastianich. These celebrity chefs have plenty of peers on the list of culinary stars announced this weekend who will help shape activities for the US pavilion at Expo Milano 2015, a world's fair that is expected to draw 20 million visitors over its six-month run.
After a lackluster showing during the 2010 World Expo in Shanghai, the US is keen on improving its performance this year, when the Expo's theme will be food and nutrition. The American contingent is captained by leaders from the James Beard Foundation (JBF) and the International Culinary Center (ICC).
"In keeping with the model set by the U.S. men's Olympic basketball team in 1992, our goal is to bring together the very best that America has to offer the world," JBF executive vice president Mitchell Davis tells Quartz.
Davis and his team are cooking up an "edible exhibit" called "Food Truck Nation," that will spotlight the revival of food trucks in America and offer visitors a taste of regional street food. A more formal pop-up restaurant where American chefs will showcase their culinary prowess will operate in central Milan throughout the duration of the fair.
The restaurant will serve traditional American Thanksgiving dinner every Thursday and a gospel brunch every Sunday, and the White House's executive chef, Criseta Comerford, will take a turn in the kitchen.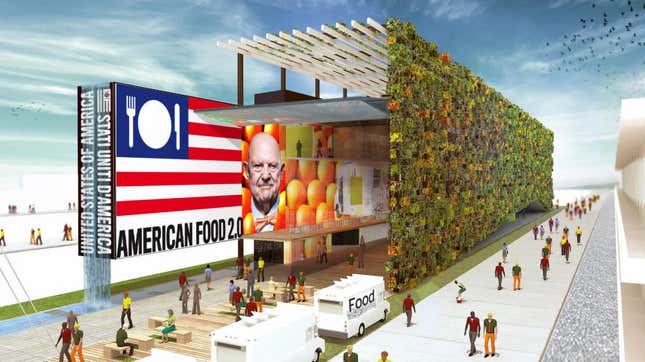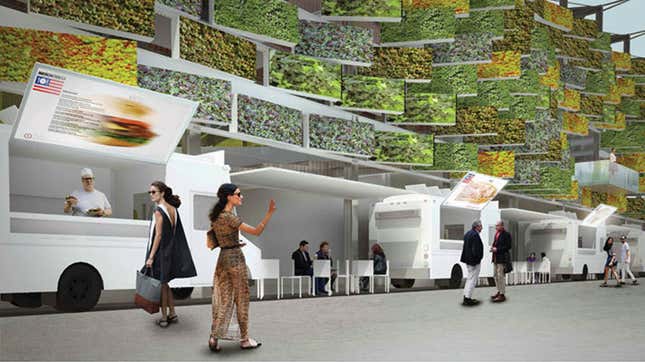 The exhibits will be mounted in a multi-level 35,000-square-foot space with a football-field-sized "crop wall" that will grow harvestable vegetables, grains, and herbs designed by the architect James Biber.
"The building is not just a container, but it helps to reinforce our message about issues like sustainability, nutrition and health, consumption, technology and innovation," Davis says. "Food is a complex issue, and engaging visitors in the fun and serious aspects of the theme is going to be a great challenge."