Apple's new store in Hangzhou, which it opened with great fanfare over the weekend, is just one of five retail stores the company is opening in China ahead of Chinese New Year on Feb. 19, and is part of a 25-store expansion it has planned over the next two years.
The launch of the company's "Westlake" store, named after a body of water in the center of the eastern provincial capital, included an explanatory video about working with a local calligrapher and and a rare Tweet from chief executive Tim Cook:
The expansion to China's "tier two" cities is taking place even as Apple remains mum about a reported landmark deal that will allow officials in Beijing to conduct "security checks" on all Apple products sold in China, which may include granting officials access to Apple's operating system source code. And a recent visit by China's chief internet regulator to Apple's California campus, where the security check deal reportedly took place, underlines just how important it will be for Apple's future growth to placate the country's suspicious regulators.
Apple's recent quarterly growth in China has been uneven, hit by product launch delays caused by regulatory hang-ups, a later-than-expected tie-up with China Mobile, and encroaching competition from home-grown rival Xiaomi, among other companies. (Apple is changing the way it breaks down its revenues, but for now "retail" is a separate category from its other regional sales from online and third-party sellers).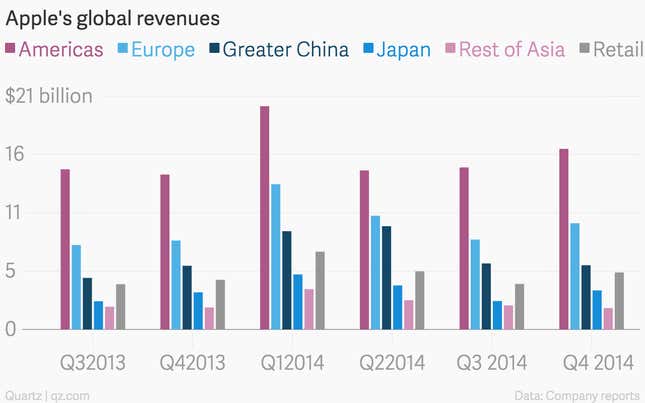 But in the quarters ahead, China is projected by company officials and analysts alike to be Apple's most important growth market, especially as US and European sales growth ebbs, thanks to a heavily saturated market and a drop in iPad sales. Later this week, Apple is expected to say that it sold more iPhones in China (paywall) than in the US last year, for the first time ever.
China, of course, is a phenomenally fast-growing mobile market, but it is not the only one—or even the fastest.
Mobile subscriptions globally will grow from 6.8 billion in 2014 to 9.2 billion in 2019, Ericsson predicts (pdf pg. 6), and China and India are already accounting for a massive chunk of that growth. The top five countries accounted for 50% of all net mobile additions in the first quarter of 2014, as Ericsson reports (pg. 5) led by India, with 28 million, followed by China with 19 million.
Apple's strategy in India so far, though, has been confused at best.
The company decided to sell an older version of the iPhone that doesn't work well with its latest operating system, frustrating the very wealthy, globe-trotting Indian mobile users it should be catering to. Indian laws on buying materials from domestic manufacturers make it impossible for Apple to open a retail store in India, and India's comparatively low per-capita income means that the vast majority of the population is unlikely to be able to afford an iPhone now or in the near future.
That's not the case in China: Even though the country's smartphone sales are starting to slow down, there is ample room for users to upgrade from low-priced generic handsets to premium-priced iPhones. As long, that is, as Apple can keep Beijing on side.