As of this morning, the pope is on Twitter at @pontifex. And, no pressure on the pontiff, but the Catholic Church has already declared that anything he tweets will be part of the church's magisterium, although it's not clear yet whether his pronouncements in this medium will be considered infallible.
The pope's first tweet will arrive on December 12. Anyone who has questions for the Pope can tweet them with the hashtag #askpontifex, says the Vatican's official twitter account. Which, let's be honest, feels like a disaster waiting to happen. Already, a search for top tweets including "pontifex" turns up a number of wags ready to score points off the leader of the Catholic Church, whose followers—on Twitter, at least—appear to be swelling at the rate of at least 20,000 an hour.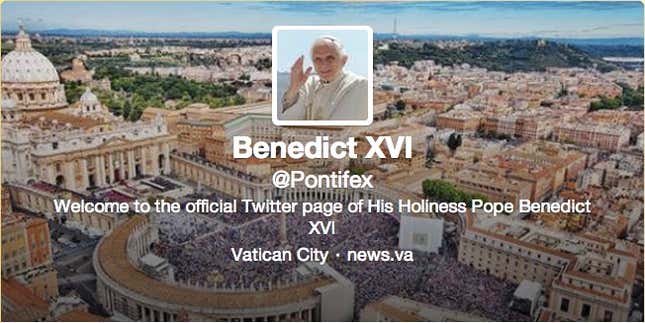 The pope will also be tweeting in at least six other languages: German, Spanish, Italian, Polish, Portugese, and Arabic. It's also been reported he'll be tweeting in French, but that account does not appear to exist yet, and given that it's suspended, someone may have already tried to claim it. As in real life, Twitter already has its share of false popes.
It's worth noting that the Dalai Lama has 5,636,705 followers on Twitter as of this writing, while the pope is approaching 30,000. (There are 1.2 billion Catholics in the world and approximately 20 million Tibetan Buddhists.)
The pope will not be authoring his own Tweets, reports Reuters. The Vatican's senior media advisor said, "We are going to get a spiritual message. The pope is not going to be walking around with a Blackberry or an iPad and no one is going to be putting words into the pope's mouth. He will tweet what he wants to tweet."
Here's some file footage of the pope using an iPad: