Hong Kong, Singapore, and Bangkok were the cities visited by the most tourists in 2013, according market research company Euromonitor International's latest "Top 100 City Destination Rankings," released today.
The city rankings used publicly available information as well as primary research (such as interviews with contacts within the travel industry) to tally inbound international tourist arrivals in 57 core countries. Here are the top 20:
In 2012, the same three cities came out on top. They benefit from being in heavily populated areas in proximity to China, the report says.
While outbound travel from China benefits many other cities, inbound tourism to China has slowed significantly since the 2012 rankings. There were eight mainland Chinese cities represented in the top 100, but six of them posted declines in tourism. Beijing, a city with major attractions like the Great Wall and the Imperial Palace, saw the biggest drop. (Tourism to Bangkok has also taken a hit in the wake of a military coup in May, but the effect will not be fully seen until Euromonitor releases 2014 travel data.)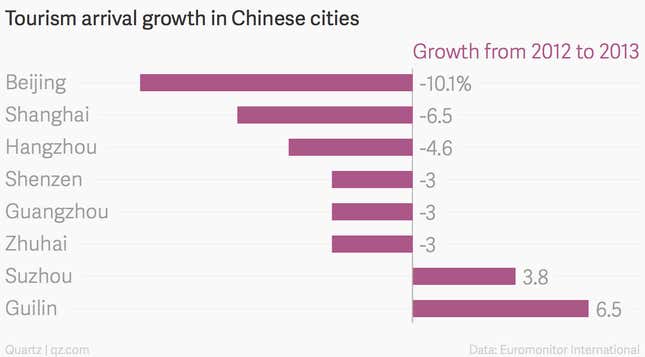 The report attributed the decline in arrivals in China to an uncertain economic outlook for the region, pollution concerns, and tensions with Japan—a key source market for tourism arrivals.
China's pollution problem has made headlines for quite some time now, and its been cited as a key reason the country is seeing its tourism numbers drop. A report last fall from the China Tourism Academy found that the average amount spent per tourist in China also been dropping, and blamed the overall decline in foreigner visits to the dirty air.
While the Chinese government has announced ambitious anti-pollution measures, the early results don't look promising. In 2014, smog that covered the region was compared to a "nuclear winter."