In 2011, Copenhagen was hit by flash floods. Six inches (15 cm) of rain soaked the Danish capital in the span of three hours, causing more than $1 billion worth of damage. Realizing that climate change will mean more, not fewer, such floods in future, the city started planning for them.
One area in the city, St. Kjeld, hired a Danish architecture firm, Tredje Natur, to create what is being called the world's first climate-change-adapted neighborhood—complete with its own brand name, Klimakvarter (link in Danish), the Climate Quarter. "We said, 'Instead of doing pinpoint projects, let's develop a rainwater master plan'," René Sommer Lindsay, the official in charge of St. Kjeld's transformation, told al-Jazeera. "Rainwater is only a problem if it goes where you don't want it to go."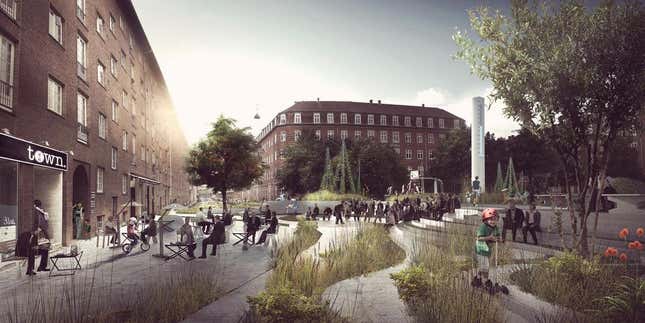 Often, the solution to flooding would be to build enormous new sewers to channel the water out to sea. Instead, the architects' approach is based on open drainage—a transformation through just plants and water. "It is our vision that 20% of the covered surface area in the neighbourhood should be turned into green areas and that 30% of the daily rainwater should be managed locally and not end up in the sewer system," says a brochure for Klimakvarter (pdf, p. 9).
St. Kjeld is in the process of having its paved squares torn up and replaced with turf. During hot months, the turf will help to cool the air. During rainstorms, the squares will act as basins to collect water in the event of another flood. The sidewalks will be slightly raised in the center, to allow water to run off to the sides and leave walkable paths. For the duration of the storm, the city essentially turns to a mini-Venice.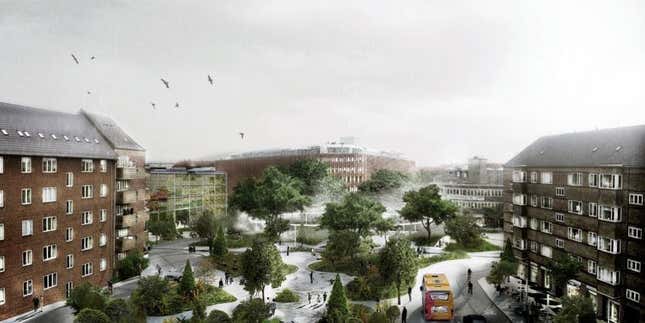 Should a storm like that of 2011 strike Copenhagen again, the water will fill St. Kjeld's main square to only 40% capacity, according to al-Jazeera. The city is also adding tiny water towers to collect water.
As more cities around the world face the economic and environmental impact of hurricanes, storms, and other types of inclement weather, Copenhagen should serve as a model of how to use design and ingenuity to find ways to cope.