It's official: Yahoo is spinning off its lucrative stake in Chinese e-commerce giant Alibaba into a new listed entity. Here's how the company illustrates the change (pdf):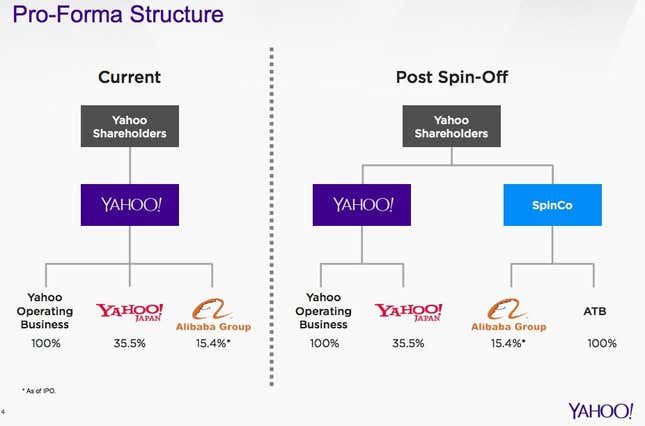 Doing so allows the company to effectively transfer its lucrative stake in the business, worth about $40 billion at current prices, to its shareholders on a tax-free basis. Yahoo shares have surged by about 8% in after-hours trading.
Marissa Mayer has been facing pressure from some investors to liquidate the company's Asian assets, which are in theory worth as much as Yahoo itself, and return the proceeds to shareholders.
Instead, the company decided to literally transfer the Alibaba stake to its shareholders by awarding them shares in a new vehicle. It will hold on to its 35.5% interest in Yahoo Japan, for now. "Yahoo believes this transaction will achieve the most advantageous return of capital to our shareholders with the absolute highest probability of success," it said in a statement.
This move should get pesky investors off Mayer's back, but it also means she can no longer hide behind the Alibaba stake, which has been a key driver of its stock price since she took the reins.
Oh. Yahoo also reported earnings. Revenue came in at $1.19 billion, down 2% from a year ago, but broadly in line with expectations. So no signs of growth—but today, for once, that doesn't matter.