When Brian Alvey first heard about The Daily, which was shuttered today after less than two years, it was still just a gleam in Rupert Murdoch's eye. Alvey was in a coffee shop in Rockefeller Center in New York, right behind News Corp.'s headquarters, being grilled by three guys, including John McKinley, the future CTO of News Corp., and Jesse Angelo, the future editor-in-chief of The Daily. They had one question for him: Could he do it? Could he build a fast, lightweight online newsroom that could push 120 pages a day of magazine-style content to users who might be on a slow internet connection?
Six months later, in February of 2011, Alvey was sitting in the front row of an auditorium in the Guggenheim Museum, listening to Murdoch introduce The Daily, a tablet-only newspaper whose design had been approved by Steve Jobs himself. It was to be a grand experiment in digital publishing, conceived at a time when the iPad was so new that publishers had no idea how people would really use them.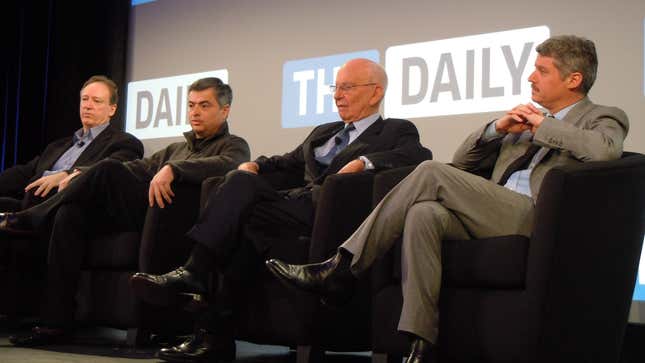 Now that the dream is over, Twitter has filled with carping from competitors about how The Daily never stood a chance in the first place. But the publishing system that enabled it lives on. Alvey's firm, Ceros (called Crowd Fusion at the time) is applying the lessons learned from building The Daily to create "brand publishing" platforms for everyone from IBM to Disney.
What The Daily got right
The first lesson was in producing content that was rich and sophisticated but that a slow 3G internet connection could still cope with.  Adobe's Digital Publishing Suite, which publishers like Condé Nast use to translate print magazines onto the iPad, produces enormous files that are basically PDFs. "People magazine [on the iPad] is 98 pages and 250 megabytes," says Alvey. The Daily was twice as much content, which would mean that if News Corp has used Adobe's platform, customers would be downloading "a half a gigabyte of content a day," says Alvey.
Instead, an average issue of The Daily was 30 MB. The compression was achieved using text and "navtive iOS features," says Alvey.
The Daily also conducted a number of early experiments in how a reader might navigate through a magazine on a tablet. Initially, people could jump around its content in a half dozen different ways, including a "content jockey", a little video of a person who would narrate the day's top stories. Some of what The Daily wanted to do, including a graphics-heavy "carousel" that would spin past as users swiped it, was simply too much for the hardware in the first iPad. Later versions, such as the iPad 2 and 3, could handle more unconventional methods of navigating content. But the editors axed most of the snazzy navigation methods on discovering that most users preferred simply swiping from one item to the next, much like in a traditional magazine.
And while pundits focus on all the money lost on the venture, Alvey takes a different view. "As an R&D lab I'm not so sure it was a waste of money," says Alvey. "If you look at it, it wasn't just an iPad application. They very quickly started to use that platform to dip their toe into everything that came along." Experiments at The Daily included being one of the first three publishers to launch a Facebook app using OpenGraph, which shows what your friends are reading (the other two were The Washington Post and the Huffington Post), and publishing directly to Amazon's Kindle e-reader.
"If they just went every year and added two more [publishing] platforms [to The Daily] and kept losing money, that's a great R&D lab within a $60 billion company. If you spend $30 million every year to test every new platform that's actually cheap."
From media to brands
While Crowd Fusion (now Ceros) licensed its publishing platform to News Corp., it retained rights to the underlying code and intellectual property, allowing it to refashion the software for other brands. Alvey says that the systems it licenses to them are even more advanced than what it was able to give News Corp. Whereas designers on The Daily had to specify page layouts, for example, by entering numbers into forms, the latest system is more like the what-you-see-is-what-you-get desktop-publishing software that magazine layout editors are used to. The difference is that there isn't any software to install: it's all carried out in a web browser. (I can attest that the system is quite impressive, since Alvey gave me a demonstration of an early beta of it last year.)
Alvey's team was also the first in the world to implement recurring billing and a subscription model for a tablet, all of it in the app for The Daily. "It was great, working with media companies and having a seat at the table," says Alvey. "The trouble was, and this wasn't just about The Daily, we looked at all of our customers and said 'Is there another Daily out there?' And there just isn't. There's nobody else willing to put that kind of money into a grand experiment." Hence the move to sell their publishing platform directly to brands.
Whither The Daily, so goes publishing?
Alvey is unapologetic about his company's pivot away from media to brands like Virgin Atlantic, Sears and Tesco. "There are so many brands out there. Here's what I say to people about them: A brand will spend 10 grand to make 50, or 50 to make 250. And a publisher will spend 20 grand to lose 40."
That may be a little harsh.  iTunes is already filling with small-scale experiments in using the same subscription-pricing model that The Daily pioneered, from The Atavist to The Magazine. The Daily's mistake, as one of its former editors wrote on his Facebook page, may have been that it "added more average-reader content to a market saturated with free average-reader content. It didn't have the courage to be cool, quirky, nerdy, obsessive or snarky."
But Ceros's move does symbolize the broader shift in power in media. Brands used to pay publishers in order to reach their audiences. Now they are doing it directly—and using the same publishing software.