The numbers: Apple's first quarter was its biggest ever by far, and marked accelerating growth. Its $74.6 billion in revenue was a new record, representing 30% growth over last year. Its $18 billion in profit was also a new record. And its 74.5 million iPhone shipments beat last year's record by almost 50%.
Most important: Apple says growth will continue this quarter. Its $53.5 billion forecast for March quarter revenue is close to Wall Street's consensus. Shares traded up 5% in after-hours trading.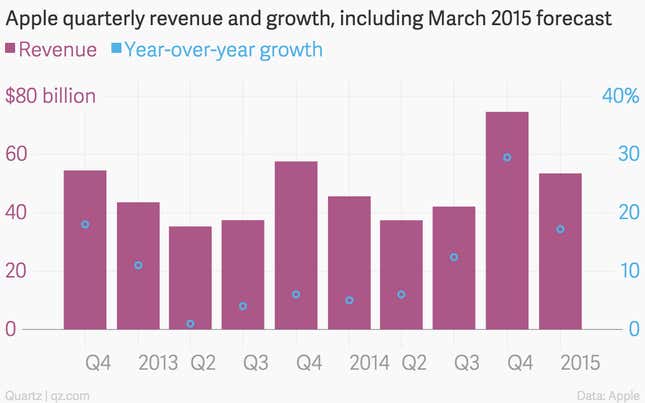 The takeaway: The iPhone is an amazing force—and Apple is increasingly relying on it for growth. iPhone sales represented 69% of Apple's overall revenue last quarter, a new record. And the iPhone's year-over-year revenue growth, in dollars, was more than the company's overall growth. "This volume is hard to comprehend," Apple CEO Tim Cook said on the company's earnings call.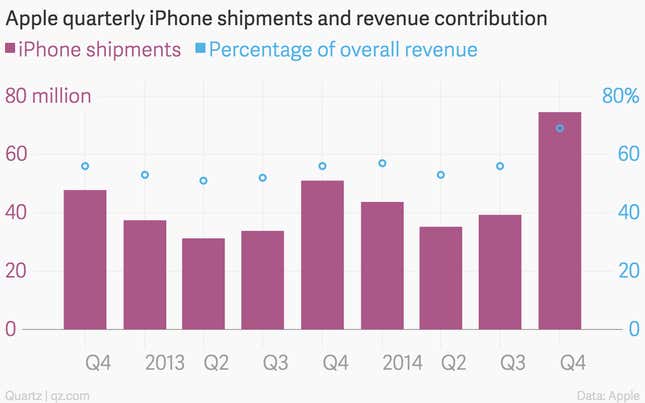 Simply put, Apple is crushing it, both in its sales and its operations. For Apple to produce 75 million iPhones in a quarter is impressive in itself—never mind selling that many. (Now let's see how smoothly another logistical challenge goes: The Apple Watch launch.)
What's interesting: Apple reorganized its geographical revenue reporting this quarter so that its retail stores were integrated into their regions instead of listed as a separate segment. This gives a brief look into how well the Apple retail empire is performing around the world.
In short: It's biggest in the Americas, as you might expect, but also important in Greater China. In the previous (September) quarter, including retail within the Americas region added $3.5 billion in sales, for a total of $19.75 billion. In China, it added about half a billion dollars, bringing its total to $6.3 billion. This most recent quarter—the Christmas period—of course, blew them both away: Sales in the Americas region, including retail, reached $30.6 billion, while China passed $16.1 billion.