The Shanghai-based construction firm WinSun Decoration Design Engineering has unveiled a five-story apartment building made entirely with a giant 3D printer, and is calling it "the world's tallest 3D-printed building." With a terra cotta brick-like exterior, the building is on display at the Suzhou Industrial Park, along with a 1,100-square-meter (11,840-square-foot) 3D-printed neoclassical mansion.
The buildings were made with a patented "ink" created from a mixture of recycled construction waste, coursed through a 150-meter long printer. This is the same technology that the company demonstrated last year when it printed 10 affordable single-story houses in 24 hours, a feat that captured the imagination of architects, humanitarian aid agencies, and governments looking for alternative housing solutions.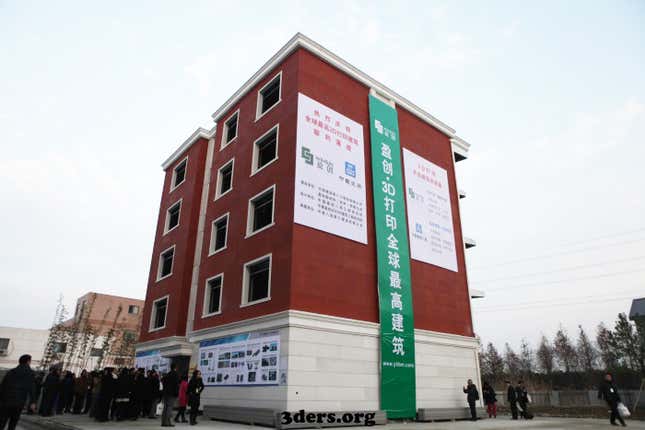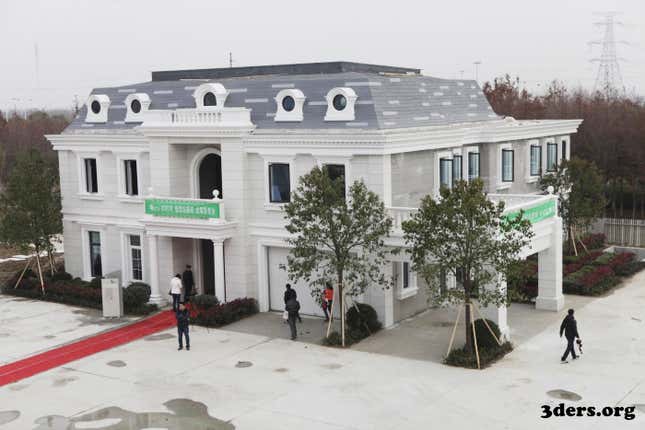 According to the chief engineer of China Construction, Ma Rongquan, who inspected the buildings, both structures are in compliance with national standards, though he was quick to note that there were really no standards written yet for 3D-printed architecture. "We need to revise and improve such a standard for the future," Rongquan told the 3D-printing-focused blog 3Ders.
Ten of the mansions have already been pre-ordered by a Taiwanese real estate group, and the Egyptian government has ordered 20,000 of the affordable single-story houses.
WinSun is not the only company to embark on printing houses—nor does it make the most beautiful 3D buildings—but unlike some of the other companies in the field, its ambitions are global, and it seems to have had some success convincing investors of its scalability. Quartz reached out to WinSun for comment, but did not hear back before publication.
At the press conference earlier this month, WinSun CEO Ma Yi He announced the company's plans to build 3D construction factories in more than 20 countries, including the US, Saudi Arabia, the U.A.E, Qatar, Morocco, and Tunisia. Its engineers are currently working on a printer that turns desert sand into building material.
The Associated Press toured the models on display at the Suzhou Industrial Park: