Bitcoin's ideological foe is becoming its saving grace.
To many Bitcoin enthusiasts, the decentralized currency's allure was that it was designed to exist beyond the reach of government regulation. Free from central banks, its value wasn't tied to government policies or geopolitical factors.
But now it seems the very regulation its creator or creators (since we don't actually know who first minted Bitcoin) guarded against is what's now buoying the cryptocurrency's price.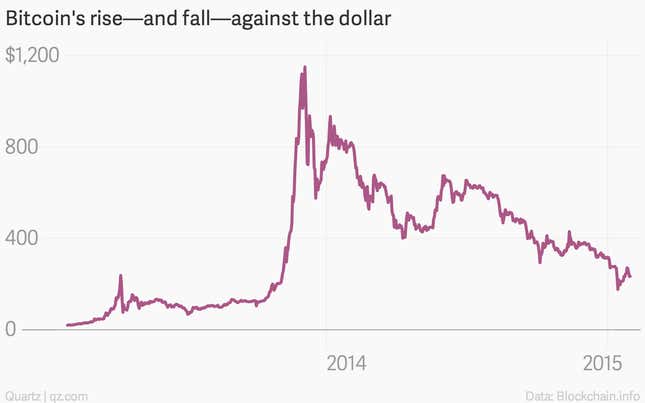 The arrival of regulated US Bitcoin exchanges, as well as impending plans to create a BitLicense in New York, have sent the price of Bitcoin up 30% in the past two weeks. Even the Federal Reserve alluded to Bitcoin in its report on the payment industry's future, pledging to keep an eye on virtual currencies. It's been a nice respite for Bitcoin believers after the virtual currency was called the worst investment of 2014, following a nasty tumble from the $1,000-plus highs reached at the end of 2013 to January lows of less than $200.
But regulation comes neither quickly nor easily, particularly in the US. The Winklevoss twins, Cameron Winklevoss and Tyler Winklevoss (of Facebook fame), recently said they are awaiting approval from New York's top financial regulator for a license to operate a new exchange. The entrepreneurial twins are also still in a regulatory holding pattern over a separate Bitcoin ETF they have been working on for at least two years.
Bitcoin platform Coinbase recently touted the launch of what it called the "first regulated Bitcoin exchange in the US," following multi-million-dollar investments from big financial firms such as the New York Stock Exchange and BBVA. But very soon after, officials from California and New York warned consumers the exchange was actually not regulated by their state laws.
Coinbase cites so-called money transmitter licenses in states including Alabama and Arkansas—which were created decades ago to allow companies like Western Union to send and receive money—as part of the reason it considers itself regulated. But it's still working to get licenses in large states such as New York, where it says it falls into "a regulatory gray area."
"We are working with several companies, including Coinbase, on licensing and will continue to move forward expeditiously," Matt Anderson, a spokesman for New York's Department of Financial Services, tells Quartz. "That said, we have not yet issued any licenses to virtual currency firms."
While the details remain in flux, Coinbase's strategy to seek regulation seems necessary. If Bitcoin becomes standardized and regulated, it could potentially become as ubiquitous as the credit card. That means big payoffs for Bitcoin-related companies—and for the VC funders behind them.
Regulation will help bring Bitcoin into the mainstream so it's "easy and accessible for the average person," Coinbase's head of government affairs John Collins tells Quartz.
That's a far cry from the language that once excited people about Bitcoin's potential as a truly independent currency. But when it comes to creating a brand new currency, sometimes it pays to play by the rules.