After announcing its earnings for the last quarter of calendar 2014, Chinese e-commerce behemoth Alibaba saw its stock price slide nearly 9% in US trading. What gives?
The numbers are part of the story, yes. Revenue in Alibaba's fiscal third quarter—which includes the critical holiday shopping season—came in at 26.2 billion yuan ($4.2 billion), missing analyst estimates of 27.6 billion yuan.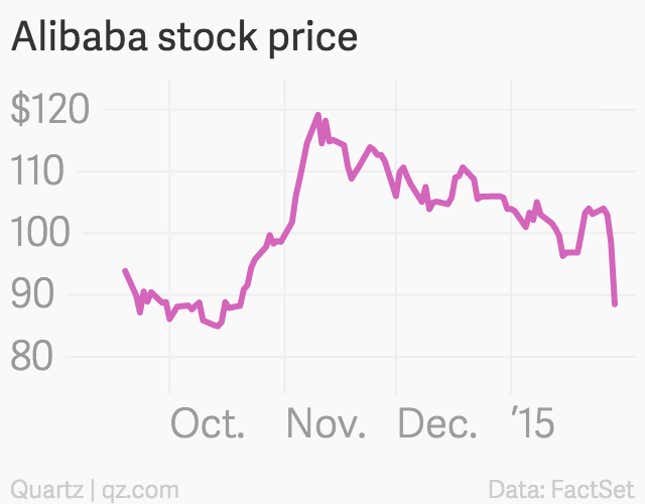 The bigger problem appears to be a developing scandal surrounding the Chinese government's Jan. 28 release of a secret white paper condemning Alibaba for illegal activity. The report, issued by China's State Administration for Industry and Commerce (SAIC), has since mysteriously vanished from the agency's website. But you can read a translation here.
The report focuses mainly on the company's allegedly lax vetting of merchants on its e-commerce marketplaces, which in China are widely believed to be filled with pirated, counterfeit, and illegal goods—something Alibaba itself alluded to in its IPO filing (p.37).
What's likely more troubling to shareholders is that according to the white paper, SAIC met with Alibaba's management to discuss its criticisms on July 16, 2014—two months before Alibaba's Sep. 19 IPO on the New York Stock Exchange. The report says the agency explicitly kept this meeting "confidential" in order not to hurt Alibaba's IPO prospects. This "raises questions about whether there was adequate disclosure in the IPO prospectus of ongoing regulatory actions," David Webb, founder of a corporate governance watchdog site, told Quartz earlier.
Alibaba's prospectus indeed notes past problems with "pirated, counterfeit or illegal" goods and anticipates further allegations and lawsuits. However, it doesn't mention the SAIC meeting specifically.
Joe Tsai, Alibaba's executive vice chairman, said on the earnings call today that the company first saw the white paper on Jan. 28, and that the July meeting was no different from regulatory meetings held in the "normal course of business." He also said the company never requested a delay in the publication of a SAIC report.
Whether or not this alleviates any suspicion about the company's handling of disclosures, it does little to clear up another, broader concern that now seems to be hanging over the stock—regarding Alibaba's complicated relationship with Chinese officials.
The strange about-face of SAIC's actions—the conspicuous timing of the white paper's release the day before Alibaba announced earnings, and its mysterious deletion the next day—was actually predated by another SAIC report that opened a public rift between the agency and Taobao.
SAIC on Jan. 23 published the results of a broad investigation into e-commerce (link in Chinese) in China, which found that only 37% of goods sampled on Taobao.com, Alibaba's eBay-like marketplace, were legit. That was by far the worst showing of any of the websites examined. Four days later, on Jan. 27, Taobao took to its official Sina Weibo account to say it was filing a formal complaint to SAIC, the Financial Times reports (paywall). (The post has since been deleted.) And the day after that, SAIC published its white paper on Alibaba, which included the minutes of the July meeting with the company.
In his earnings call remarks today, Tsai said the targeted nature and "flawed approach taken" by SAIC "was so unfair that we have felt compelled to take the extraordinary step of preparing a formal complaint" to the agency.
Meanwhile, in a leaked audio recording file that has not been verified—a transcript of which the state mouthpiece Xinhua published and then deleted (paywall)—SAIC head Liu Hongliang ripped into Alibaba, reports Huxiu, a Chinese internet site:
Some people might say I'm biased against Alibaba, that I'm just being picky. I'm here today without prejudice against Alibaba, letting my actions speak for me, because this is my duty. The combined annual salaries of all the comrades on this side of the table is less than the monthly salaries of each executives on the other side of the table. Funny but no joke. Your monthly salary is more than all of our monthly salaries put together.
It's impossible to know what's going on behind the scenes. But Alibaba's current struggle is a reminder to investors that the fortunes of Chinese companies—even a $250-billion company owned by scores of international investors—ultimately swivel on the ever-so fine edge of Communist Party favor.