Deutsche Bank reported fourth-quarter results today.
The numbers: Surprisingly good. Deutsche Bank reported a profit of €441 million ($498 million) in the fourth quarter, defying analyst expectations of a second consecutive quarterly loss.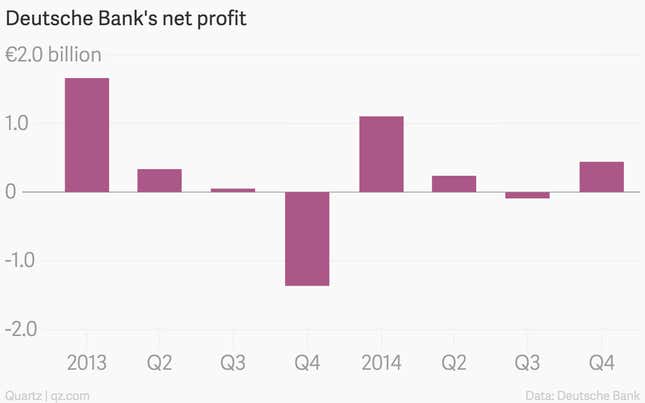 The takeaway: The upturn isn't as impressive as it first appears, and not just because its return on equity was a paltry 2.6%. Yes, the bank's trading businesses recorded punchy growth in relation to competitors—equities rose by 35% and bonds, rates, and currencies by 13% versus a year ago. But the main reason for the positive profit surprise was that the bank recorded €1 billion less in litigation costs than the year before, which comes down to the bank settling fewer of the many cases it expected to close before the year's end.
What's interesting: CFO Stefan Krause warned analysts on a conference call that the bank's legal troubles—related to foreign exchange, interest rate, and other alleged market manipulation—will get worse before they get better. The fourth-quarter "deferral" of litigation costs will "make the number already much higher in 2015," he said.
That makes the odds of another surprise profit in the current quarter look increasingly remote. But the finance chief was coy on how big a hit the bank could face: "I learned my lesson for forecasting litigation expenses this year, and obviously will abstain from doing so."