You know those share price pops that often occur on a company 's first day of trading? Restaurants have learned how to supersize them.
Since 2012, initial public offerings of restaurant stocks have returned an average 48% on their first day of trading, compared with just 15.3% across IPOs across all sectors, according to research firm Ipreo. Investors hungrily awaiting Shake Shack's public offering are no doubt hoping to see this translate into a windfall when the burger chain goes public. (Its IPO is scheduled for Jan. 30, and The Wall Street Journal (paywall)  reports that the shares have just priced at $21 apiece.)
Of the 11 restaurant IPOs since 2012, including Dave & Buster's, Potbelly, and Noodles & Co., none has ended its opening session in the red.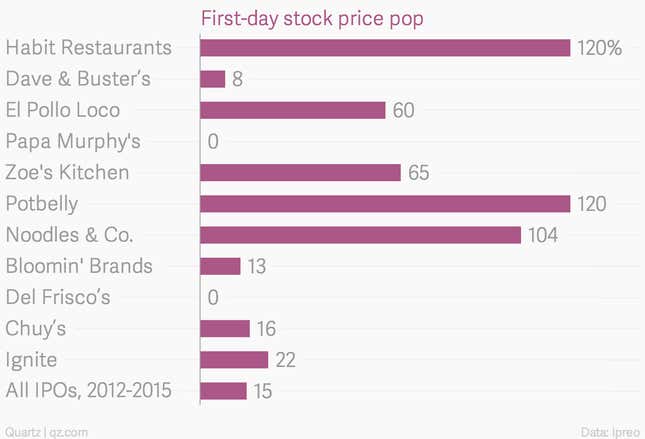 And many have kept up the momentum since: Shares of these companies are still trading 54.7% above their offer prices, compared with 48.2% across all IPOs, according to Ipreo.