The numbers: Google reported fourth-quarter revenue of $18.1 billion. That's 15% growth over last year and below analysts' expectations. (Google cited "strong currency headwinds.") Non-GAAP earnings per share reached $6.88, also below expectations. Shares initially fell in after-hours trading, but then climbed about 2% as executives calmed everyone down on the earnings call.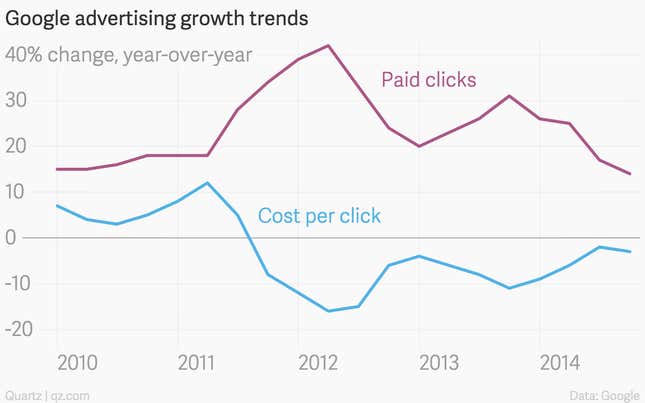 Google's overall growth in paid clicks, 14% year-over-year, represented a multi-year low. Paid clicks in its network business—ads that Google shows on other websites—declined 11% year-over-year, while paid clicks on its owned and operated sites—Google, YouTube, etc.—increased 25%.
The takeaway: While Google is still growing, there has been some pessimism about its future lately—led by the overall shift to mobile, where ads are historically worth less and where search queries are often performed in apps, rather than through Google. This isn't going to shift that sentiment.
Google executives attempted to assuage investors on its earnings call, arguing that it's investing prudently. It noted that the quarter's numbers were "noisy," and highlighted that mobile revenue on YouTube grew by more 100%.
What's interesting: Google continues to add to its headcount, hiring more than 2,000 people last quarter, and finishing the year with 53,600 employees.