Alibaba is trying a new way to convince US businesses to buy more from Chinese manufacturers.
China's giant online marketplace is partnering with Lending Club, a San Francisco-based company that matches up borrowers and lenders, to enable small businesses to apply for a credit line of up to $300,000 "in under five minutes" to make a payment to a vendor using Alibaba's e-commerce platform. The credit lines are only good "when purchasing goods from China-based suppliers on Alibaba.com," the company said in a statement.
Alibaba, whose successful mega-IPO has recently been overshadowed by a Chinese government report that was critical of its business practices, is increasingly courting international business, particularly in the US. The company is looking to expand the Lending Club partnership to the UK and Australia next, a spokeswoman told Quartz.
Alibaba.com already has "millions" of registered small business users from the US, the spokeswoman said, both as buyers and sellers. But over 80% of the company's $4.22 billion in revenues last quarter came from Chinese consumers. Revenues in the company's "international commerce, wholesale" business are growing more slowly than in any other business division—albeit still at a healthy 21% per year (pdf, pg. 9).
Providing US small businesses with easier credit may be one way to accelerate that growth.
About half of the US's private sector jobs, some 120 million, are created by the US's small businesses. But since the 2008 recession, many say they can't get the credit they need from banks to expand, as explained by an in-depth Harvard Business School study. Banks argue that increased regulatory requirements and weakness in the small companies makes it tough for to provide loans.
Whatever the reason, traditional bank lending to US companies with less than 500 employees dried up during the financial crisis and never really rebounded, according to government data.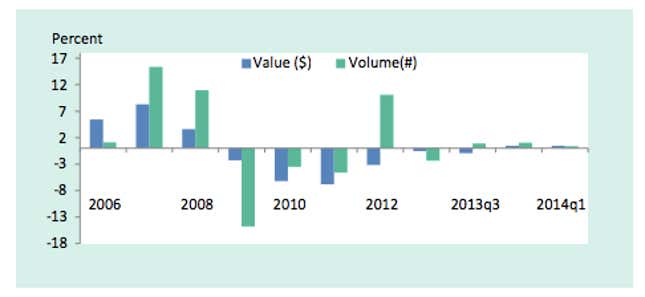 The credit drought has led to a rise in alternative, sometimes unregulated financing—including companies like Lending Club, other investor-backed lenders like Kabbage, and even an influx of Chinese investors eager to secure US visas.
The bottom line: Alibaba.com's newest partnership may result in more credit for US small businesses—but only if they're buying from China.