Australia's booming housing market is exhibiting some classic signs of a real estate bubble, and that was before the Reserve Bank of Australia cut its benchmark interest rate to a record low of 2.25% today—a move triggered by fears of deflation and weak economic growth.
The RBA's interest rate cut is expected to send mortgage rates even lower, adding fuel to an already red-hot real estate market. Australian property prices have grown by a whopping 390% since 1997, according to a 2015 Fitch report, the strongest rise of any country the ratings agency studies. Since 2009, home values have grown by 57% in the largest market, Sydney, and 50% in the second largest, Melbourne, according to CoreLogic RP Data.
Here is a chart showing the real estate run-up of Australia's biggest cities (2012=100):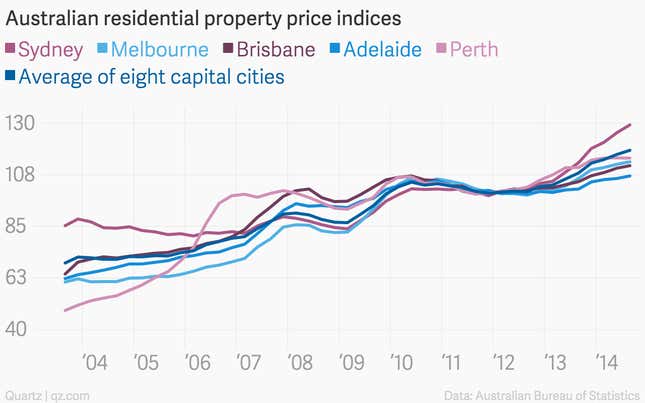 It's not just the growth in prices that's a problem. Australian household debt as a percentage of disposable income is now running at over 150%, an all-time high. The IMF ranks Australia as having the second highest house price-to-income ratio in the world, and a Deutsche Bank survey of OECD countries estimates that Australian property prices are 49% overvalued.
"Australia's housing market is a classic pyramid or Ponzi scheme like the ones we previously saw in Ireland, the USA and Spain, and the RBA lowering rates is only going to add fuel to the fire," said Philip Soos, a researcher at Australia's Deakin University. Soos cited the economist Hyman Minsky's definition of a Ponzi scheme, in which asset owners are completely reliant upon rising prices to meet the cost of owning the asset.
Soos' fears are not shared by most Australian economists, who have mostly argued that the fundamentals of the country's property market justify the run-up in housing prices. Paul Bloxham, chief economist with HSBC Bank in Australia, said that strong demand and relatively limited supply of housing in the main cities has been the principal driver of price growth over the past ten years. Yet he still sees today's rate cut as a risky bet.
"Given that rates are already very low, we do think that there is a growing risk that a housing bubble could form, particularly if interest rates were to fall even further," Bloxham said, speaking before the rate cut was announced.
The country's banking regulator, the Australian Prudential Regulations Authority, agrees. It asked banks in December to limit growth in home lending to investors to 10 percent a year, and warned that it will increase oversight of mortgages to cool off an "unbalanced" housing market.
But for an economy that is founded on three main economic pillars–natural resources, banking and property—it is looking like a very precarious tripod indeed.