In London, pronouncing the names of the city's central tourist spots "Lie-cester Square," "Glaw-ces-ter Road" or "Hole-born" is likely to earn you sideways glances and tut-tuts of derision.
It's hard enough to blend in while traveling, and one of the most awkward ways to stick out is to mispronounce local place names. A new patent awarded to Google on Feb. 3 could help travelers get the hang of local pronunciations before they even board their plane.
The patent details how Google could determine the most common pronunciation of a place name from audio clips submitted by locals, then offer that pronunciation when someone searches for the place on Google Maps. This function could be handy, as Google says in the patent, "when traveling in a foreign country."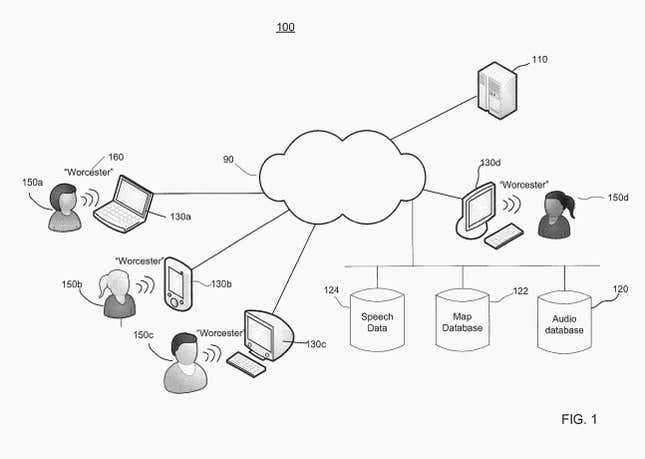 The place name used in the patent filing is a great example of why this technology would be so useful. Worcester is the name of a city in the UK, and also of one in South Africa and ten places in the US—and it is pronounced slightly differently in each country.
Google already has a similar audio function available via Google Translate, although the current computer-generated pronunciation of "Worcester" is unlikely to sound right, no matter which Worcester in the world you hail from. The patent suggests that in its proposed system—unlike Google Translate—actual humans would provide the audio clips, which would allow for local subtleties to shine through.
Google's proposed system would process all the pronunciation suggestions it receives from locals to determine which sounds were most common, and then overlay an audio file of the prototypical pronunciation on that location of a map for a user to click on.
A representative for Google told Quartz that the patent doesn't necessarily mean that Google will be adding this functionality to its maps anytime soon: "Some of those ideas later mature into real products or services, some don't."
But in our estimation, this would actually be a useful feature (unlike many patents, which are filed just for the sake of claiming them). It would certainly help restore the confidence of anyone who has ever suffered through an awkward pronunciation situation.