Stung by Western sanctions, tumbling oil prices and the collapse of its currency, Russia has seen the biggest fall in the number of billionaires last year—setting the stage for India to become home to the world's third largest community of ultra-rich in 2015.
India currently has 97 billionaires living in the country, according to the China-based Hurun Global Rich List, with Reliance Industries chairman Mukesh Ambani leading the pack.
"Combined wealth of the Indian billionaires comes to $266 billion," the report said, while "manufacturing, pharma and TMT (technology, media and telecom) are the preferred sectors with 23, 14 and 12 billionaires respectively."
Russia, on the other hand, is home to 93 billionaires, having lost 10 ultra-rich in the course of the ongoing economic turmoil.
But India and Russia—even with their legions of billionaires combined—are no where close to the US and China, which have the two largest communities of the world's wealthiest people.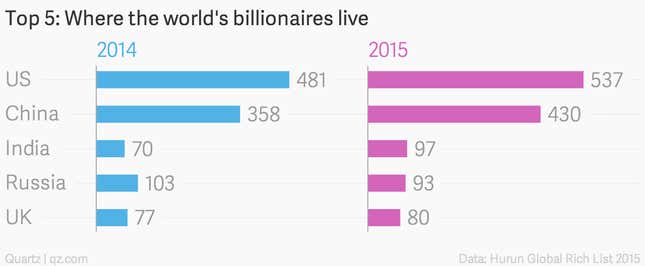 In all, Hurun counted 2,089 of the world's richest people to publish its annual list of dollar billionaires for 2015.