Global Tel*Link—familiar to listeners of the true-crime podcast Serial, which name-checked the company at the beginning of every episode—is developing a high-tech side business. The company has begun installing and operating "managed access systems" that render contraband mobile phones useless when used inside a prison.
As reported by Fusion's Kevin Roose and Pendarvis Harshaw in their feature on technology in prisons, thousands of mobile phones are smuggled into correctional facilities by visitors or corrupt employees. Some are used by inmates to intimidate witnesses and manage criminal enterprises; others are just used to post on social media or keep in touch with family.
Prisons can't jam mobile phone signals entirely—that would be illegal under US regulations, and would interfere with legal and sometimes necessary phone use. Instead, companies like GlobalTel*Link, working with telecom infrastructure partners such as Tecore, install a special cell tower in or near the prison, equipped with software that blocks calls, texts, and data from mobile phones that are not explicitly approved, such as the ones used by prison staff. Once authorized, phone calls and data from approved phones are transmitted to regular cell towers operated by mobile carriers like Sprint or AT&T.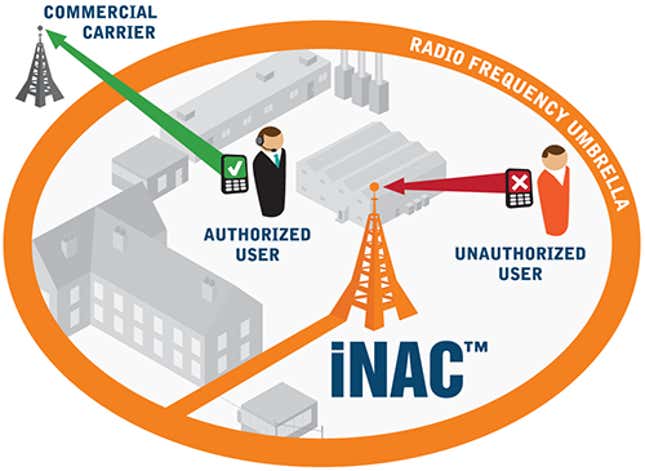 So if Adnan Syed, the convict at the center of Serial, were to use a mobile phone—as he told the show he had done in the past—at a prison with a managed access system, his calls and texts would have theoretically gone nowhere. Here's an audio clip of what inmates at two Baltimore-area detention centers hear if they try to make a phone call, via public radio station WYPR. The roll-out of these systems hasn't been without problems: Some people driving near one of the Baltimore detention centers reported that their calls were erroneously intercepted by the prison's cell tower.
Managed access systems can be hugely expensive, and yet Global Tel*Link has offered to install them at no cost to prisons, because blocking mobile phone calls essentially pays for itself. Illicit calls undercut the monopoly that the company has on payphone calls at some 2,100 US prisons—often at extremely high prices. Prisons have little incentive to seek low bids from contractors, especially because they often receive a large portion of the revenue generated. Federal officials moved to cap long-distance rates last year in response to complaints from inmates' families, who were paying as much as $17 for a 15-minute call.
In 2012, Global Tel*Link conducted a test of its managed access system at a California prison, intercepting some 4,000 calls, texts, and attempts to access the internet. The day after the test payphones use went up 64%, according to the LA Times. The company was not immediately available for comment.