Update: RadioShack has filed for Chapter 11 bankruptcy protection and reportedly reached an agreement to sell as many as 2,400 of its 4,000 locations to the hedge fund Standard General. According to the Wall Street Journal, as many as 1,750 of those stores will be operated in partnership with Sprint.
This '80s-inspired photo says a lot about the downfall of RadioShack.
In all likelihood, RadioShack will soon cease to exist. RadioShack started out as a store in Boston for ham radio enthusiasts, but eventually grew into an omnipresent consumer electronics retailer. As technology got smaller, so did RadioShack's business model.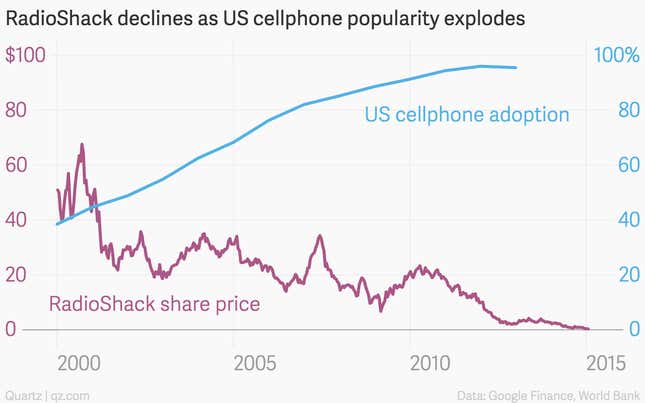 It was the Starbucks of its day. By the late '80s, RadioShack's parent company, Tandy, operated roughly 7,000 stores in the US. According to Andrea Butter and David Pogue's book, Piloting Palm, over 90% of Americans were within five minutes of a RadioShack store. And Americans dropped by like it was Starbucks. If you needed blank tapes for your camcorder, a new resistor for a fuse, stereo wire, a headphone splitter or a new VCR, you went to RadioShack.
RadioShack was once the playground of the inventor, the maker and the tinkerer. In the '70s, Steve Wozniak—Apple's co-founder—built a device to hack long-distance phone calling out of parts he bought at RadioShack. It was where amateur electronic engineers could pick up computer chips and build their own computers.
It smartly saw the mobile revolution coming, and started selling cellphones and service early. The company first listed mobile communications as a separate revenue line in its earnings in 2001, where it accounted for 27% of sales. As the 2000s progressed, mobile's share of RadioShack's revenues continued to grow.
By 2013, 52% of the company's sales were from mobile communications.
But in embracing mobile, RadioShack ensured its eventual demise. All that technology we once carried converged on one device, and RadioShack ran out of things to sell. The apps on an iPhone—camcorder, voice recorder, music player, portable TV—replaced many standalone products RadioShack sold. And cellphones and smartphones don't need nearly as many of the parts and accessories–the cables, cassettes and replacement parts–that had made RadioShack a household name. There are only so many sets of headphones and protective cases that one person needs. Its own-brand products business dried up along with the parts and it found itself competing against its smartphone suppliers, who had also developed their own vast networks of stores across the US.
In recent years, RadioShack has tried to recapture some of its old 'maker' spirit. It sells 3D printers, and partnered with Quirky, a marketplace for inventors, as well as LittleBits, the electronic module startup trying to create an "internet of anything." But these marketing stunts haven't really boosted RadioShack's sales, and while that might be part of a wider issue of whether anyone really invents anything anymore, RadioShack continues to slide towards oblivion.
When RadioShack briefly tried to change its name to "The Shack" in 2013 and then switched back, CEO Joe Magnacca told the Huffington Post: "Not many people hate us… we're just not relevant to them."
Goodbye, America's technology store—you will be missed.