There have been more ups and downs in the first 10 days of the new Greek government's administration than most governments see in an entire term. As prime minister Alexis Tsipras and finance minister Yanis Varoufakis have fanned out across European capitals to drum up support for renegotiating Greece's bail-out agreements, markets have see-sawed with each new statement, leak, or tweet that hinted at a deal.
Greece's current bail-out program expires at the end of the month—if left to its own devices after that, default and ejection from the euro zone would probably follow in a matter of months.
It is surprising that it has taken this long for one of Greece's top ministers to make his way to Germany, the euro zone's paymaster. The meeting between Varoufakis and his ideological opposite, German finance minister Wolfgang Schäuble, took place today in Berlin. But the talk among traders scrambling to dump Greek stocks and bonds was of Frankfurt, where yesterday the Greek finance chief met Mario Draghi, president of the European Central Bank.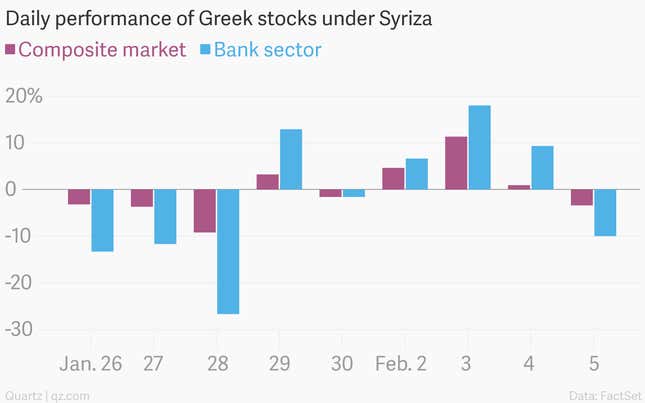 Shortly after that meeting, the ECB unexpectedly cut off Greek banks from a key source of funding, saying it would no longer accept Greek government bonds as collateral for the cheap financing that has kept the banks afloat throughout the country's financial troubles. This isn't a death sentence, as the banks can source funds from elsewhere, albeit at more expensive rates (as they had to do a few years ago).
It is particularly bad news for the Greek government, though, as it removes an incentive for banks to buy its debt at the same time as putting the state fully on the hook for the banks' own borrowing. The banks are already leaking deposits at a worrying pace, so shoring them up is probably Greece's most pressing short-term problem; the government does not have the resources to stem a full-scale bank run on its own. In essence, the ECB raised the stakes for Greece and its creditors to come to a deal sooner rather than later.
Greek bank stocks plummeted in early trading, casting a shadow over the finance ministers' meeting in Berlin. The two "didn't even agree to disagree," Varoufakis said at a press conference. He pushed for a short-term bridging loan to buy Greece more time, "the most precious of commodities," to negotiate a new deal on the country's debt burden and commitment to austerity. Schäuble did not seem keen on the idea, noting that "reliability is the precondition for trust."
In response, Varoufakis promised "a frenzy of reasonableness" from his government in the coming weeks. Greek stocks and bonds stabilized after the encouraging show of civility between two of the key players in Greece's financial drama. But tomorrow is another day, and recent history suggests that it would be foolish to predict how this saga will play out.