Europe is powering ahead with wind. Perhaps its no surprise that fewer gas and coal fired power stations are being built—plenty already exist. But the rate at which wind turbines are going up, both onshore and offshore, still gets some pulses racing.
Across the 28 countries that make up the European Union, 11,791 megawatts of wind power was connected to the grid in 2014—worth up to €18.7 billion ($21.1 billion)—according to a report by the European Wind Energy Association. New coal added 3,305 megawatts, while new gas capacity totaled 2,338 megawatts—less than half of the wind installed.
The member states are not equally enthusiastic. Almost 60% all-new installations were in just two countries: Germany and the UK.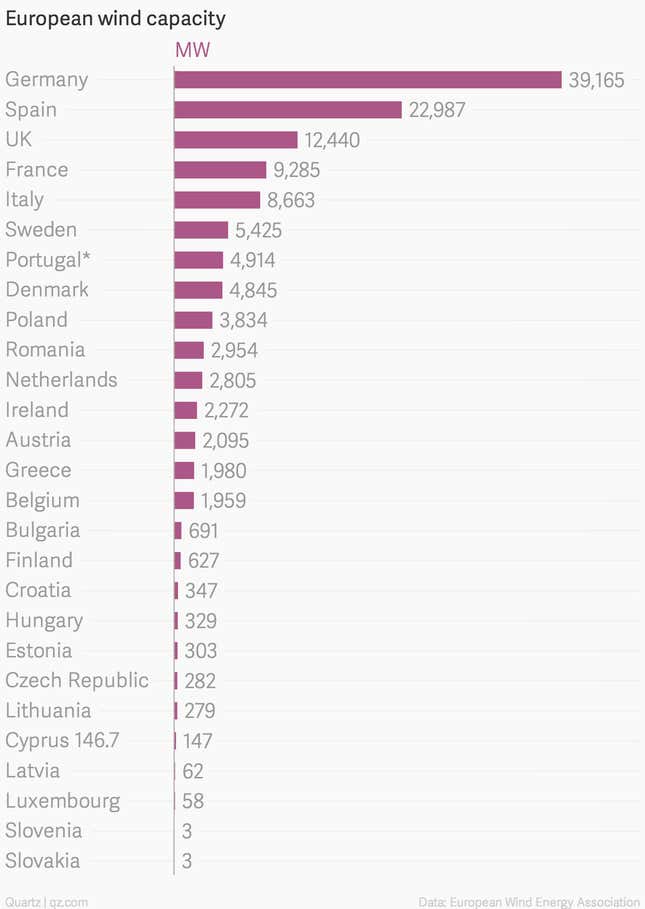 In a "normal wind year," the EU could now produce 10.2% of the electricity it needs, up from 8% the year before.
But there are also signs that some markets are becoming saturated. Denmark, which managed to produce a greater share of its wind energy than any other country last year, may also be reaching peak wind—it saw its installation rate drop by over 90%. Spain and Italy also installed much less wind than in previous years, while solar power accounted for a large chunk of new energy built in Europe.
But despite the high numbers, the EWEA took pains to sound cautious in a statement that insisted there was no room for "complacency." Renewable power is still propped up by subsidies, and still expensive.